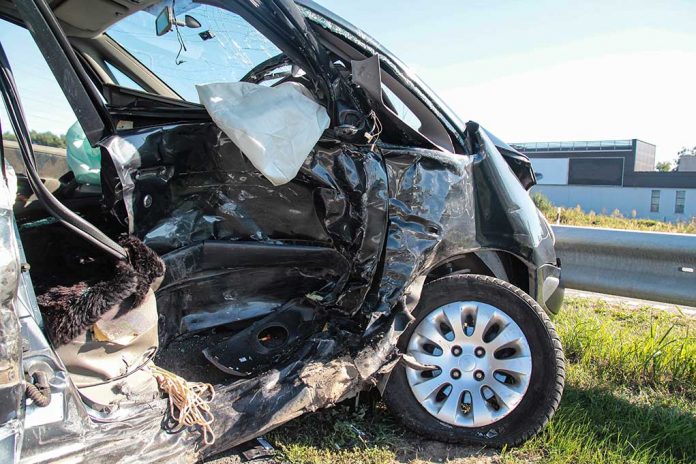 (BrightPress.org) – Since President Joe Biden took office on January 20, illegal immigrants have flooded the US border, setting new records nearly every month. Not only do people cross into the country by foot, risking their health and lives, but they also come via vehicles. On Wednesday, August 4, an accident caused 10 illegal immigrants to die, and 20 others suffered injuries after a van stuffed beyond capacity crashed on a remote South Texas road.
The Texas Department of Public Safety said a Ford passenger van designed to carry no more than 15 people was at double its capacity limit. For an unknown reason, the vehicle was speeding excessively and veered off the road when the driver attempted to make a right turn. The van hit a metal utility pole and stop sign. At the scene of the accident, the driver and nine passengers were declared dead.
At least 10 people are dead and 20 are injured when an overloaded van crashed Wednesday on a highway in a tiny town about 100 miles south of Corpus Christi, Texas, authorities said.

— The Oklahoman (@TheOklahoman_) August 5, 2021
First responders took the other 20 passengers to different medical centers nearby. The survivors' injuries range from serious to critical. The identity of the dead won't be released until officials identify the ownership and registration of the van and notify each next of kin of their loved one's passing.
The tragic accident is another reminder that weak border patrol initiatives don't just hurt America; they also harm migrants.
Copyright 2021, BrightPress.org