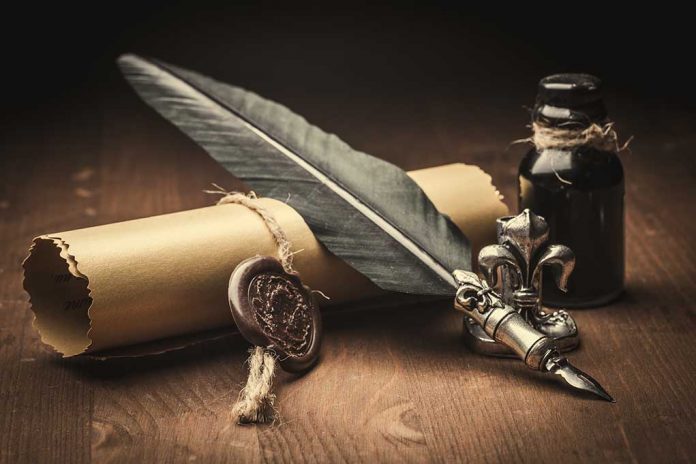 (BrightPress.org) – Every day, thrift stores receive millions of new item donations. In 1991, a collector spent $4 on a horrible painting because he liked the frame. When he went to replace the picture, the collector found an original copy of the Declaration of Independence. What we're about to share with you isn't another discovered copy of the famed historical document. However, for one family, it's just as precious.
Employees of a North Carolina thrift store found a 149-year old marriage certificate hiding in the frame of a donated painting. Store employees immediately sought out on an adventure to find a family descendant who would appreciate the 1872 family document. After putting a copy of it on Facebook, genealogist Connie Knox jumped in to help find a family member.
Hope Chest Thrift Store in North Carolina successfully returned a 146 year old marriage certificate to the couple's great-granddaughter, Irene, after sharing a photo of the certificate online. Irene says she plans to frame the certificate ❤️

PHOTO: Hope Harbor Home on Facebook pic.twitter.com/kJyZOk7g59

— Breakfast Television (@breakfasttv) August 17, 2021
Using Ancestory.com, she was able to track down the marriage certificate couple's great-granddaughter, Irene Cornish. Ecstatic about the discovery, Cornish theorized that her great-grandmother or grandmother stuffed the marriage certificate into the frame for safekeeping. Obviously, the relative who gave the painting to the thrift store had no idea of the treasure inside it.
Now, it's back with the family for safekeeping. Cornish stated she couldn't believe someone found it and how overwhelmed she felt to have it back in the family where it belongs.
Copyright 2021, BrightPress.org