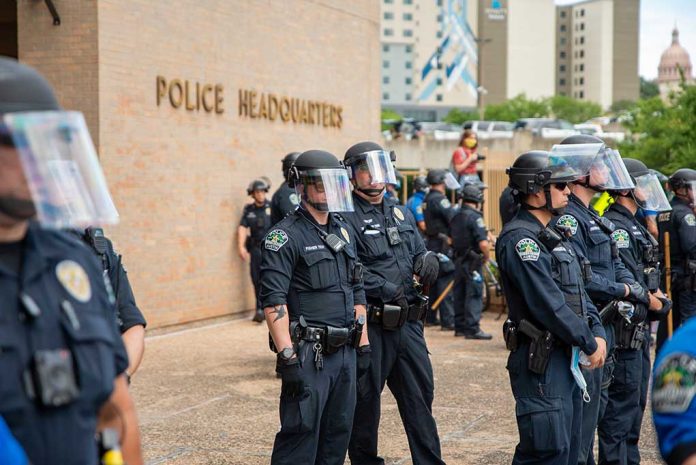 20 Arrested In Major Sting Operation
(BrightPress.org) – Over the past two and a half years, the city of Franklin, Indiana, has been the epicenter for law enforcement stings targeting arguably some of the most dangerous people society has to offer. The tiny city's police department, working with the Johnson County Sheriff, just closed its most recent investigation, netting 20 alleged sexual predators.
A Dark Investigation
Between 2020 and early November 2022, investigators posed as underage internet users and engaged with suspects who wanted to take their online activities into the real world. The unsuspecting men showed up to fulfill their objectives and found themselves in handcuffs instead.
A statement from the Franklin PD talks about the substance of the conversations between these male adults — between the ages of 21 and 64 — and users they believed to be minors, stating it was extremely disturbing. Authorities charged all of the suspects with child solicitation, and many faced extra counts for weapons, drugs, and other charges related to child endangerment.
The alleged perpetrators' home bases also concerned investigators. While most came from the Indianapolis area, several traveled significant distances to meet their prey. Ryan Alan Browning, a 34-year-old who allegedly showed up with child pornography, traveled from Harts, West Virginia. Jonathan Tyler Evans of Pisgah, Alabama, faces charges for transporting pot, meth, and drug paraphernalia.
The bulk of the men bonded out of jail.
Extraordinary Success
The Franklin Police and the Johnson County Sheriff don't have the resources of a major metropolitan area, but they have an effective process for rooting out possible predators. In total, the team arrested 49 suspects in 4 stings. That figure included 10 charged in December 2020, 8 in April 2021, and 11 in May 2022.
The police statement stresses there's no way to know what these people might have done had the sting not found them.
The statement includes a reminder that all suspects are innocent until proven guilty through due process. All collected evidence goes to the county prosecutor for review and formalized charges.
A Warning to Parents
The release stresses how easily anyone with a smartphone can access messaging platforms and other communication apps anonymously. Cops emphasize the importance of remaining vigilant by monitoring children's online activity and checking for dangers in cyberspace.
Copyright 2022, BrightPress.org