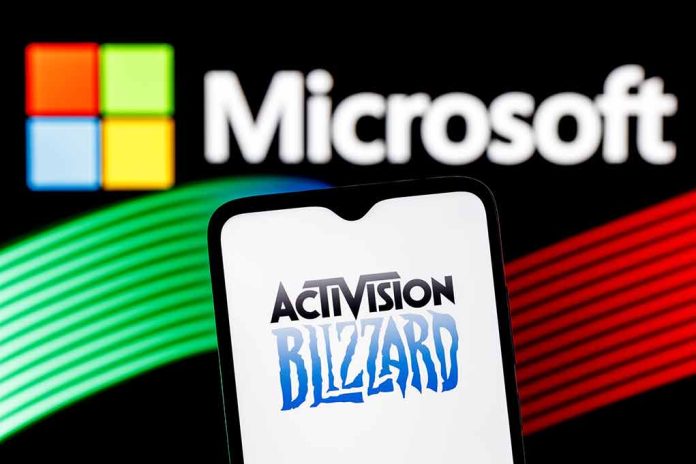 (BrightPress.org) – Regulators in the United Kingdom have blocked a $69 billion acquisition and merger between Microsoft and Activision Blizzard. If allowed to proceed, it would mark the largest-ever tech merger in history. Authorities said that it would impede competition in the cloud-gaming market.
Issuing their final report on the subject, the Competition and Markets Authority said that the only possible course of action is to block the merger in order to prevent loss of competition in the market. The move was fiercely opposed by corporate rival Sony and is also being examined by regulators in the U.S. and other European countries. 
The move would have given Microsoft ownership of popular gaming titles like Candy Crush, World of Warcraft, and Call of Duty. The government was primarily concerned with the impact this would have on the fast-growing cloud gaming market, which allows players to stream games to their devices. This protocol mitigates the need for expensive consoles or high-powered computers. 
Martin Colman chaired the panel investigating the merger, and said that due to the speed at which the market is evolving, it was "vital to protect competition." 
Representatives from both Microsoft and Activision suggested they were going to appeal the decision. Microsoft President Brad Smith said the company was "fully committed to this acquisition" when he announced their intention to appeal. He further suggested the move discouraged innovation and investment in the United Kingdom. He also seemed miffed that the decision was the result of "lengthy deliberations" and implied regulators didn't understand the relevant technology. 
Representatives from Activision suggested they would "work aggressively" to continue the merger. No doubt their stockholders want a piece of that $69 billion deal, which is all-cash, by the way.
Previously, regulators had signaled a willingness to allow it to proceed when they dropped concerns over how the merger would impact the console gaming market. In their final report, they suggested that the merger could only proceed with strict oversight and that the only other option was to block the merger. They said Microsoft is already deeply involved in cloud gaming, and acquiring Activision would give them too much control of the market by allowing them to control multiple key gaming titles. 
Copyright 2023, BrightPress.org