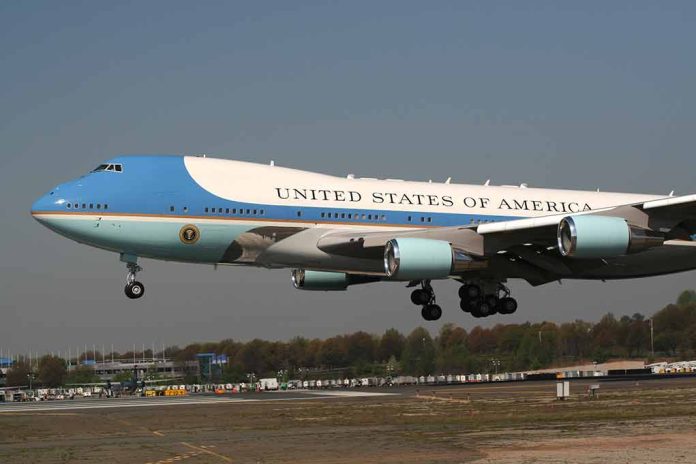 (BrightPress.org) – An unearthed photo from 2015 shows then-VP Joe Biden talking with one of Hunter Biden's Ukrainian business partners, directly contrasting the administration's claims that the President had nothing to do with his family's financial dealings.
Joe Biden's claims that he had nothing to do with his family's finances have been taking a beating lately as more witnesses and documentary evidence seemingly prove that he's been lying the entire time. Devon Archer recently testified to the House that Joe Biden not only had phone conversations with Hunter Biden's business partners but also took multiple meetings.
This photograph shows Joe Biden on Air Force Two on a trip to Ukraine with Amos Hochstein who was coordinating business between Hunter Biden and Burisma. At the time, Hunter Biden was being paid ~$80,000/month to sit on the board of the Ukrainian energy company. Hochstein is currently employed as Joe Biden's special presidential coordinator.
Rep. Elise Stefanik (R-NY) called the picture "damning" in a statement, saying it proved that Biden was having conversations about his son's business dealings in Ukraine with the men who were coordinating them. Hochstein was also rewarded for his loyalty with a position in the administration. Stefanik called the image "further evidence" that Biden was aware of and involved in Hunter's shady foreign deals.
Stefanik further elaborated that the image was taken shortly before a trip to Ukraine where then-VP Biden used the strength of his office to arrange to have Ukrainian prosecutor Viktor Shokin fired for his role investigating Burisma. Biden later infamously bragged about it. Stefanik said that the facts suggest President Biden is "deeply compromised" and promised to fully investigate the depth of his influence-peddling schemes.
This follows on the heels of revelations the FBI was aware that Joe and Hunter Biden both took $5 million bribes each from Burisma executives as compensation for getting Shokin fired.
Shokin was investigating corruption allegations against Burisma and its executives at the time Biden arranged to have him fired by threatening to withhold a billion dollars in financial aid disbursements.
Copyright 2023, BrightPress.org