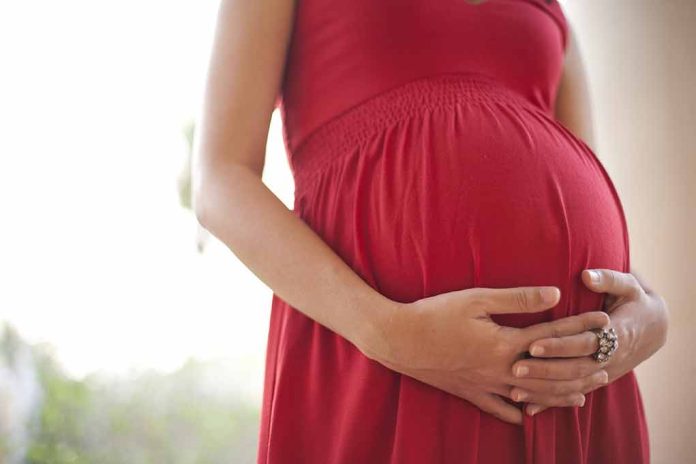 (BrightPress.org) – Famous Hollywood legend Al Pacino still has it, at 83-years-old the Scarface and Devil's Advocate star has gotten his 29-year-old girlfriend Noor Alfallah pregnant with their first child, according to TMZ. The pregnancy was a well-kept secret, only being revealed now that Noor is 8 months pregnant and almost ready to pop. It's been a fast, wild ride for the wealthy couple, having just started dating in April of last year.
This will be Pacino's fourth child; he has three other adult children with two other women. His 22-year-old twins, Olivia and Anton James were mothered by Beverly D'Angelo, and Julie, 33, was birthed by Jan Tarrant. All three kids share Pacino's famous last name.
Noor Afallah is almost 50 years Pacino's junior, but that's not a problem according to a source who spoke with Page Six last year. Afallah tends to date rich older men, previous trists include billionaire Nicolas Berggruen and iconic Rolling Stones frontman Mick Jagger. The same source suggested she comes from a wealthy family and tends to move with "a wealthy jet-set crowd." She is originally from Beverly Hills, while her family comes from Kuwait. She graduated from UCLA School of Film & Television and got into production shortly thereafter.
Beverley D'Angelo recently opened up about her relationship with Pacino, you may recall her role as Ellen Griswold in the National Lampoon series. D'Angelo reported that they grew close over their mutual love of acting and movie-making but eventually split while remaining close friends and co-parents in a non-traditional relationship.
Longtime friend and colleague Robert De Niro, 79, is welcoming his seventh child into the world with his baby mama Tiffany Chen. Their baby was their first child together. The Godfather star has six other children by three other women and has been described as a big family man by friends and colleagues. The reunions must be interesting.
Copyright 2023, BrightPress.org