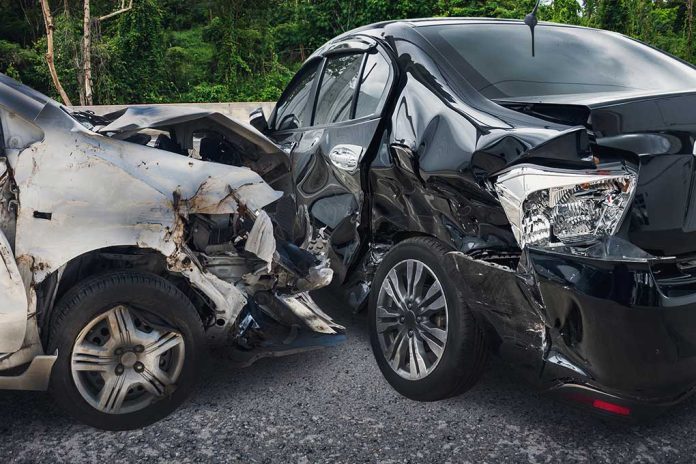 (BrightPress.org) – As illegal immigration intensifies on the southern border, human trafficking is becoming a serious problem along the edge of Texas. In 2021, well over 1 million illegal immigrants attempted to cross into the country, and thousands more are on the way. Among them are human traffickers who exploit illegal immigrants for forced labor and massive profits. In reality, human trafficking is a form of modern-day slavery. Victims of the horrendous crime aren't limited to age or gender.
WATCH: Alleged Human Smugglers Crash While Pursued by Texas Troopers near Border https://t.co/1cohPIRmfW

— BreitbartTexas (@BreitbartTexas) October 27, 2021
On Tuesday, October 26, the Texas Department of Public Safety troopers tracked a pair of female human smugglers as they transported five migrants from Del Rio, TX to Austin. The human smugglers videoed the escapade as state troopers pursued them. The video showed a pistol between the female driver's legs. After a lengthy chase, the driver lost control of the vehicle and crashed the car.
The audio recording documents a law enforcement officer helping the driver out of the car. When he orders her to put down the phone, the video ends. Details on where or when the chase occurred or if any injuries resulted from the crash are still unclear.
Experts say human smuggling is proliferating among drug cartels on the Mexican side of the border. Human smuggling allows the cartels to reduce their overhead and increase their profits without any work. It's less risky than drugs and more profitable as long as illegal immigrants keep coming from the south.
Copyright 2021, BrightPress.org