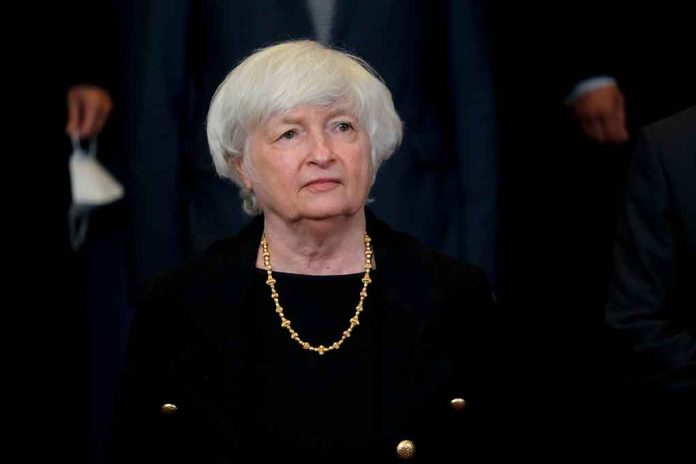 (BrightPress.org) — Treasury Secretary Janet Yellen and Chinese Vice Premier Liu He planned to sit down in Switzerland on Wednesday, January, 18th to continue economic discussions that began during Biden and Xi Jinping's meetings at the G20 summit in Bali. This will be their first in-person meet-up following three virtual meetings.
The meetings in Zurich are a part of the ongoing discussion between China and the U.S. to maintain good economic relationships as both countries are currently struggling economically despite the official rhetoric. Biden and Jinping are delegating further details to their subordinates, as Liu He is the Chinese equivalent of our Treasury Secretary.
Yellen will be traveling a lot with upcoming trips to sub-Saharan Africa stopping in South Africa, Senegal, and Zambia. China has been gradually increasing investment in Africa, with their mining corporations dominating the cobalt industry in Congo, for example.
China has previously pledged $60 billion for investment in Africa, this includes loans as well as 'assistance' in exchange for loyalty to the Chinese Communist Party. The aid comes without strings attached to things like preventing corruption, environmental damage, or harm to the local population, things the West generally requires.
Relationships between the two nations have been tense as we enter 2023. The Biden administration is looking into how TikTok can be separated from the Chinese government collecting personal information and subtly influencing American users. They've also stopped the sale of advanced technology like computer chips and are mulling over a possible ban on investing in Chinese technology corporations.
Biden has also made public statements promising to defend Taiwan in the event of a Chinese attack which has further degraded the relationship.
Yellen has publicly commented on Chinese investment practices in Africa, saying their "economic practices [sic] have disadvantaged all of us." She's also been critical of Chinese support of Russia as the war in Ukraine continues.
Copyright 2023, BrightPress.org