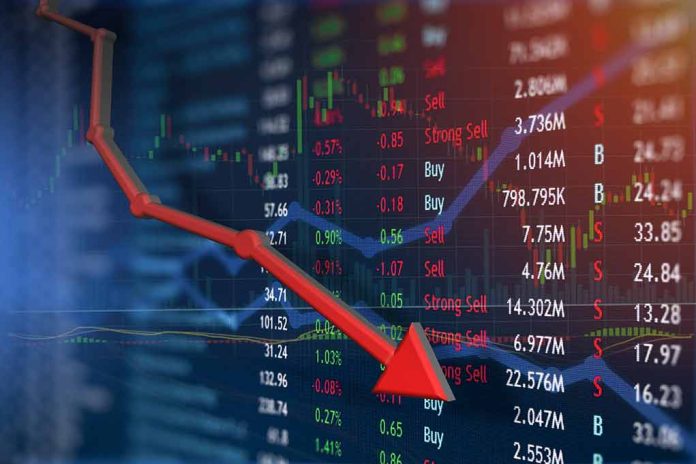 (BrightPress.org) – Anheuser-Busch has lost over $6 billion in stock value following their advertising deal with Dylan Mulvaney, a transgender "woman" with a huge social media following. Mulvaney rose to prominence over the last year when her Days of Girlhood TikTok series became a viral sensation. During the series, Mulvaney tracks her evolution into what she calls girlhood by creating short videos where she explains what he believes it means to be a "girl."
Mulvaney has been targeted by conservative commentators like Matt Walsh for the absurdity of her performance while simultaneously being endorsed by major brands like Nike and Anheuser-Busch and given a sit-down interview with President Joe Biden. The Bud Light beer company was so thrilled to engage with the influencer that they created a limited edition of beer cans featuring her face prominently displayed on the can. Those cans were not available for sale to the general public. 
Sales have significantly slumped following a backlash that included calls for a boycott. Breitbart News is reporting huge declines in the purchase of the brand in bars across the United States. A Missouri bar saw sales decline 40%, whereas a New York bar in Hell's Kitchen – a very gay neighborhood – saw sales decline 70%. 
Distributors for the brand are getting "spooked." Anheuser-Busch includes brands like Budweiser, Bud Light, Stella Artois, Michelob Ultra, and Busch Beer. Executives have defended the decision to partner with Mulvaney. 
A video featuring Bud Light's President of Marketing Alissa Heinerscheid on the podcast "Make Yourself At Home" recorded on March 30th went viral where she elaborated on her reasoning for including Mulvaney. She claimed the brand was in decline and had been in decline "for a really long time" before her takeover. The collaboration with Mulvaney was an attempt to target younger audiences and recapture some market share with young adult drinkers. 
She also explained that her marketing partnership was an attempt to "evolve and elevate" the brand by making it more "inclusive." This phrasing is common to so-called diversity, equity, and inclusion programs commonly favored by liberals. 
Copyright 2023, BrightPress.org