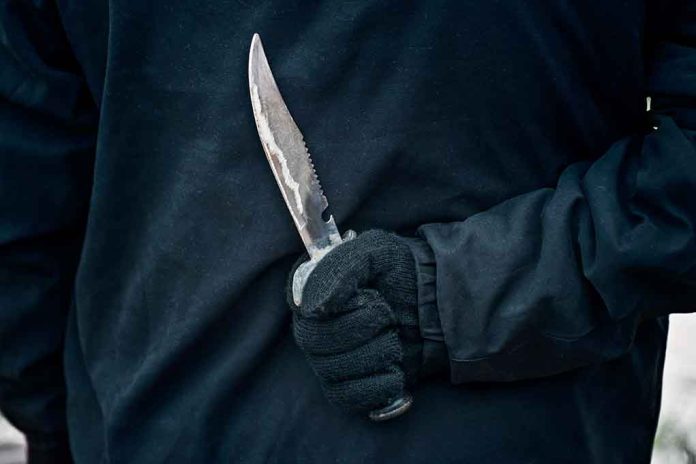 (BrightPress.org) – A member of Senator Rand Paul's staff was attacked in broad daylight on Saturday night, sending him to the hospital with stab wounds in life-threatening condition. He'll survive, thankfully, but his assault highlights the ongoing issue of violent criminals being released by left-wing radicals in the justice system.
Sen. Paul (R-KY) issued a statement thanking first responders for swift and effective action, and expressing relief that the suspect had been apprehended. He also requested privacy to advance the healing and recovery process of his injured staffer. 
The Metropolitan Police Department responded to a reported stabbing on H Street shortly before 5:30 pm on March 25th. They found the victim, stabilized him, and transported him to the hospital where he was treated. 
42-year-old Glynn Neal is the suspect. He was released from prison just the day before the attack, highlighting the 'success' of George-Soros-sponsored, soft-on-crime district attorneys. He's charged with assault with intent to kill. Will there be additional charges, or are those only reserved for protesters who entered the Capitol on January 6th through open doors? 
Neal's previous 12-year prison term stemmed from a conviction for forcing two women into prostitution. Was he encouraged to attack Paul's staffer? According to police, he claimed "voices" drove him to attack. No words were exchanged, and the victim was apparently ambushed. 
Rep. Angie Craig (D-MN) was also attacked on H Street by a man in February 2023. Craig was entering her apartment building when Kendrid Hamlin followed her into the elevator. He punched her in the face without provocation and grabbed Craig who defended herself by throwing hot coffee in his face. He was arrested and is currently being held in D.C. 
Washington Commander running back Brian Robinson was shot during an armed robbery on H street in August 2022 by a 15-year-old who pled guilty to that attack. With lawmakers from both parties experiencing the effects of the growing crime and mental health crisis, will we see a tough-on-crime trend in the near future? 
Copyright 2023, BrightPress.org