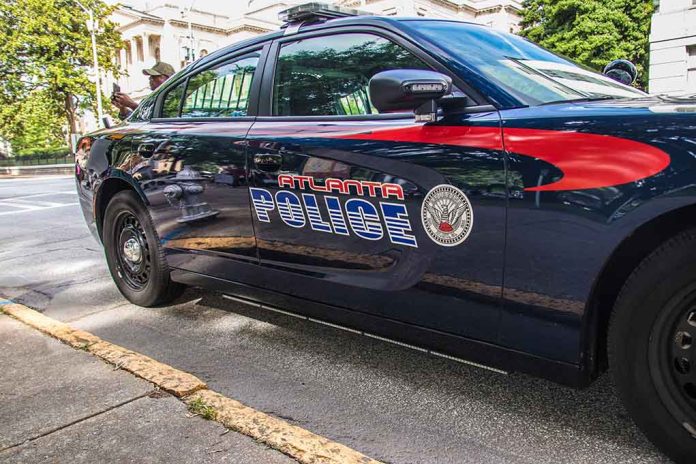 (BrightPress.org) – The Atlanta-based site for a new police training facility was set ablaze Sunday evening, according to police. Thirty-five people were detained at the site of the Atlanta Public Safety Training Center, nicknamed "Cop City" by angry activists. It has been under nonstop assault from protesters who oppose the completion of the facility as they vehemently oppose the police.
A protest was organized as a march down Key Road where the facility is under construction. Shortly after it began, individuals engaged in riotous behavior, throwing rocks, sticks, and other objects at police. One Georgia State Trooper told Fox 5 that a Molotov cocktail was thrown which set some construction equipment on fire.
The 85 acres are largely woods, much of which will be cleared as the site is developed, and the land was owned by a prison facility. The City Council allocated $90 million for the project which began in 2021, the need for more modern training facilities was apparent in the wake of the 2020 George Floyd riots as recruitment and retention numbers dropped along with police morale.
The activists believe themselves to be righteous environmentalists opposed to the destruction of the trees while simultaneously being anti-police. It's a perfect miasma for the mentally unstable young person who hates the police and wants to 'defend the environment.' It's been a regular scene of protests and riots since June 2021.
19 people have been arrested in relation to the destruction at the site since December 2022 in addition to the thirty-five detained last night. Six of those arrests resulted after a violent riot exploded in downtown Atlanta following the January 2023 shooting of one of the perpetrators, Manuel Esteban Paez Teran. The individual was killed in a gunfight with police according to the authorities, went by the name Tortuguita, and identified as nonbinary.
Shortly thereafter, rioters set a police car on fire, weaponized fireworks, threw rocks, and otherwise engaged in mayhem outside the Atlanta Police Foundation's headquarters in downtown Atlanta. It's unfortunate that these individuals are so quick to engage in destruction and lawlessness, which only inspires more police response. As the drama continues to unfold, there will likely be more bloodshed until these individuals are in jail or move on to their next target.
Copyright 2023, BrightPress.org