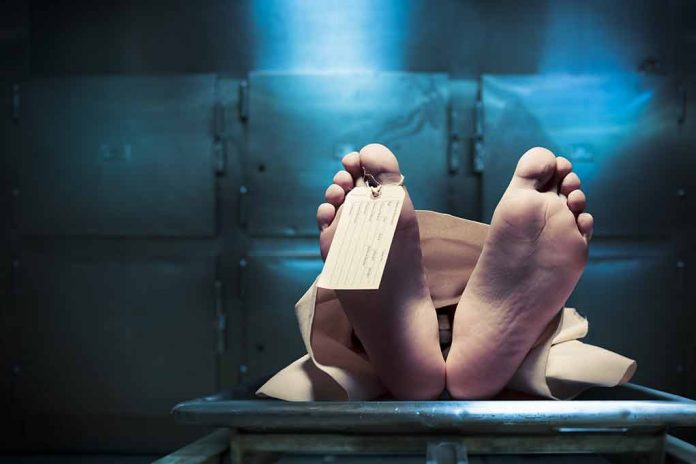 (BrightPress.org) – A retired police officer was frustrated by a two-day response time for the Austin, Texas, police department after he reported the body of an elderly woman found in the backyard of the home she shared with her husband.
The situation was so unsettling that the retired cop, Robert A. Gross, penned a letter to Austin Mayor Kirk Watson describing the event in detail. The letter was shared by another retired officer, Dennis Farris, who said Gross had worked for the APD from 1975 until retiring in 2002. Farris also stated that Gross had been checking in with the elderly couple to make sure they were ok every so often.
The letter described repeated calls "four or five times" Gross made to 9-1-1 to report the bodies. Ultimately Gross sent his wife to a local fire station to facilitate the arrival of the police. Anytime a body is discovered, state law requires police to give the go-ahead to declare it a non-suspicious death before it can be moved.
The husband of the elderly couple had recently had head surgery and was found inside staring blankly at a wall. The gentleman could easily have also died without anyone knowing. Gross described waiting on hold with 9-1-1 for seventeen minutes and twenty-two seconds while the fire department and EMS were already on the scene.
The event highlights the severe staffing shortages experienced by the Austin police department and 9-1-1 system in the wake of the 2020 BLM riots and the subsequent defunding of public safety organizations. Thankfully this wasn't an emergency with someone's life on the line, but Gross described a failure of the city's primary responsibility to provide an "adequate public safety response."
The city cut $150 million from its $434 million budget in August 2020 and has yet to recover staff to previous levels. The police department is also suffering from recruitment and retainment issues due to the prosecution of local cops over how they handled the 2020 riots.
Copyright 2023, BrightPress.org