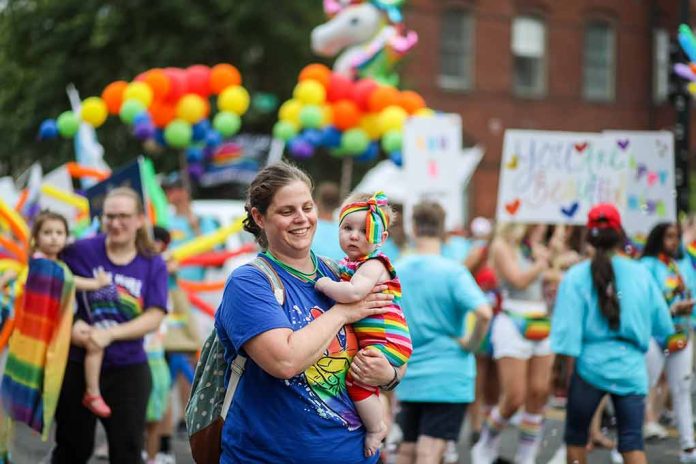 (BrightPress.org) – An alleged "all-ages" Pride celebration in Tempe, Arizona on June 3rd was the scene of lewd lyrics and adult content. It was put on display for an audience that included infants held by their mothers and other small children.
A clip from the show featured performing artist Brandon Hale aka RealXMan gyrating on stage while scantily clad, singing a rap song featuring lyrics like "he ride me like a b—-" and "girl-on-girl all day." The video then cuts to shots of a cheering audience of adults and little ones.
Independent journalist Drew Hernandez reported that the lyrics included multiple references to gay adult acts and the suggestion of "converting" heterosexual men by coercion. Alcoholic beverages were also sold at the outdoor event, providing a nightclub-style atmosphere. All in all, it's evident that none of this is appropriate for young audiences.
Hernandez reported that Hale's Instagram is full of references to LGBTQ people being considered "divine beings."
The event itself was put on by the local non-profit Downtown Tempe, which "works in partnership" with local government authorities.
"All people and ages welcome," the group wrote on an Instagram flyer for the event. Tempe drag queen Barbra Seville MC'd the event and encouraged attendees to get registered to vote to oppose the "anti-gay nonsense" happening in Arizona's state legislature and at the national level. Seville also was elated while discussing Tennessee's drag ban being repealed by the courts: "That's pretty incredible," she said. Elaborating on his desire to see more LGBT content being shown to children, he explained how every vote counts and that they needed support from attendees.
Tempe Vice Mayor Jennifer Adams also spoke wearing a rainbow boa, and a t-shirt that said "Don't Get Mad, Get Elected." She encouraged people to get involved and to run for office, saying she was the first lesbian to be elected to the city council.
Conservatives should take their advice to heart. Vote, get involved, and protect traditional American family values.
Copyright 2023, BrightPress.org