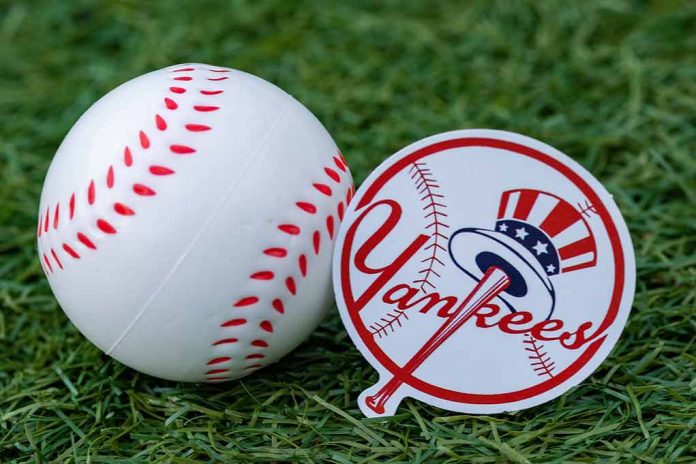 (BrightPress.org) – New York Yankees' right fielder Aaron Judge recently expounded on his love of country and respect for veterans during an interview with NJ.com. The 31-year-old, 6'7", 282 lb hulk and star power hitter said that he appreciates the sacrifice of veterans who provided the freedom that allows people like him to earn a living in a safe and secure country. He specifically highlighted the singing of "God Bless America," which has traditionally been sung at the opening of the game and during the 7th inning stretch.
Explaining that he recognizes geriatric men in the stands wearing their uniforms, some of whom "can barely walk," Judge said, "I have nothing but respect for them." He further added that his patriotism is completely apolitical. They only want to honor and respect the sacrifice of men and women who made it possible for them to play the game they love and earn a living while at it. Judge recently injured his big toe, rendering him unable to play in the upcoming 2023 All-Star Game.
Judge said, "Every time the [National] anthem" or "God Bless America is played," he's offering gratitude to veterans and active duty servicemen. He added that every time he encounters a member of the service in public, he offers his thanks. He suggested that since he can't thank them all, he'll sing it as loudly and often as he can on the field.
The Yanks are one of the few teams that maintain the tradition. Most other teams cut to commercial during the 7th inning lull in gameplay, but not the Yankees. They broadcast the song live every time. A few of Judge's teammates have joined him in standing and singing, and he said that they did so of their own volition without any cajoling or encouragement.
Team President Randy Levine said that "God Bless America" will be a "permanent" feature of the games played at Yankee Stadium. Judge's only warning to teammates who may want to join their motley chorus was to watch out for Gerrit Cole, who has an overwhelming and powerful set of practiced vocal cords.
Copyright 2023, BrightPress.org