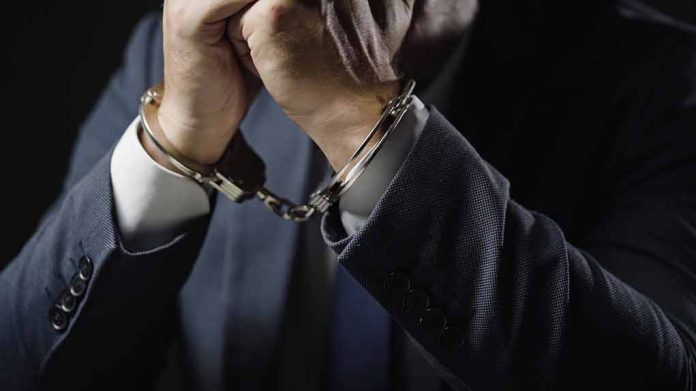 (BrightPress.org) – An irate shareholder was arrested and ejected from Berkshire Hathaway's annual meeting, on Saturday, May 6th. Peter Flaherty was interrupted and then had his mic cut off before he was able to complete his allotted 3 minutes of speaking time. He's the Chairman of the National Legal and Policy Center (NLPC), which was sponsoring a proposal to separate the position of Chairman and CEO into two distinct roles.
He was speaking on the subject of having an independent chair when he suggested that Berkshire would be less influenced by CEO Warren Buffet's political affiliations with an independent Chairman. Three other speakers were able to discuss the subject without interruption, but it seems that Flaherty got a little too off-topic for the authorities in the room. 
When speaking about the financial connections between Warren Buffet, Bill Gates, and Jeffrey Epstein, shortly after his first minute he was interrupted by Cathy Woollums, a Berkshire employee who was assigned the task of liaison for the gathering. Woollums advised him to stay "on topic," to which he replied he would not be censored. 
He then asked the Chair, occupied by Buffet himself, if he was allowed to continue, and he was granted permission "under the three-minute limitation." He resumed speaking for another thirty seconds until his mic was cut off shortly after 2 minutes. Buffet also directed security to get involved, and then two private security guards with Clark International Security approached, blocked, and told Flaherty to leave or face arrest. 
He replied he was going to finish his statement, seemingly unaware that his mic had been cut. He had time remaining and had been approved previously by the chair. The private security summoned Omaha police who then grabbed Flaherty by his arm and advised him he was under arrest. They took him to Douglas County Corrections where he was searched, detained, and charged with criminal trespass. 
A complete transcript of his statement and a video of the entire ordeal are available for those who are interested in what kind of inflammatory commentary could trigger such a reaction. 
Copyright 2023, BrightPress.org