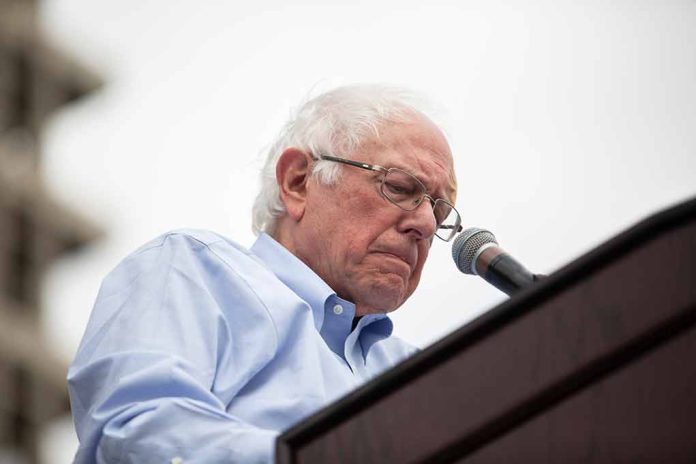 (BrightPress.org) – Senator Bernie Sanders (I-VT) announced his endorsement for President Biden's 2024 presidential bid on Tuesday, April 25th. He also said he will not be running for president in 2024. Sanders was Biden's leading rival for the 2020 nomination and told the AP this time around he plans to "do everything" he can to aid Biden's bid.
While taking pot-shots at Donald Trump, whom he called a "right-wing demagogue," Sanders lamented gun violence, sexism, racism, and homophobia. President Biden announced his intention to run earlier that morning, and Sanders discussed the issue with the Associated Press.
Voters seem disinterested in another Biden campaign with only 37% of Democrats wanting him to run for re-election, according to an AP-NORC poll from early February. Biden will face an ever-growing field of Republican primary candidates including former UN Ambassador and South Carolina Governor Nikki Haley, entrepreneur and author Vivek Ramaswamy, radio host and conservative commentator Larry Elder, and former Arkansas Governor Asa Hutchinson. 
More announcements are expected over the coming months, including Florida Governor Ron DeSantis, who can't officially announce while acting as Florida's Governor due to state law that forbids acting governors from running for national office. Former Vice President Mike Pence has also been rumored to be pondering a bid. 
Bernie's declaration for Biden seems to suggest that the progressive faction of the Democratic Party will rally behind Biden despite their dissatisfaction with him. At 80 years old, riddled with financial scandals, and a lack of accomplishments it's a wonder how anyone can support him for the most important job in the world. Crucially Biden's advanced age seems to be impacting his performance, he famously refused to campaign as the 2020 election drew near, calling lids early in the morning most days and avoiding public appearances. 
Republican candidate Asa Hutchinson formerly announced his bid on Tuesday as well in his hometown of Bentonville, Arkansas. He had previously announced his intention to run in an interview earlier in April.
Copyright 2023, BrightPress.org