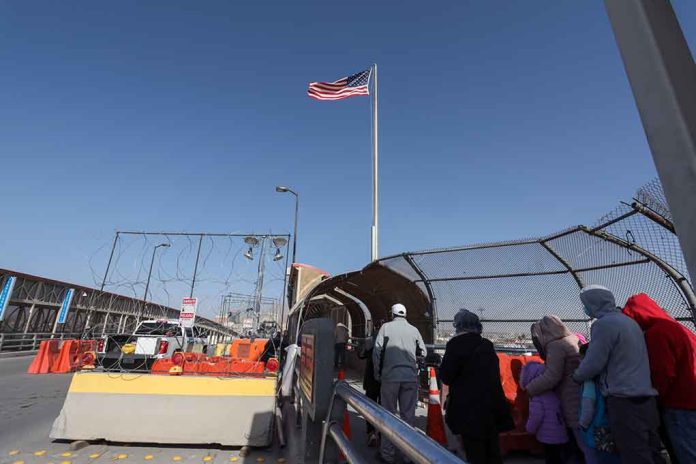 (BrightPress.org) — According to an official, President Joe Biden's administration is moving "full speed ahead" to repeal the Title 42 public health authority that has permitted federal immigration agents to swiftly deport illegal aliens who have crossed the border between the United States and Mexico.
Title 42, the CDC's (Centers for Disease Control and Prevention) authority that former President Trump first imposed in 2020 and which has assisted in limiting waves of illegal immigration, was invalidated by a federal judge last month.
The Title 42 power will be lifted on December 21 thanks to the Biden administration's prompt request to the court for five weeks to repeal the law. Although Biden's Department of Justice (DOJ) is currently appealing the ruling, they are not attempting to maintain Title 42.
Biden's Department of Homeland Security (DHS) "continues to go full speed ahead in preparation for Title 42 to lift on December 21," one such administration official explained.
The CDC has "reached a science-based conclusion that Title 42 is no longer essential," a different administration source claimed.
Experts and Biden officials agree that repealing Title 42 will almost certainly lead to an influx of unauthorized immigrants that might break daily border crossing records. Most recently, unnamed Biden officials expressed concern that a message encouraging "open borders" may spread to the world's migrants and cause a significant upsurge.
According to the current Biden administration proposal, more non-governmental organizations (NGOs) will be funded with American taxpayer money to release border crossers and illegal aliens into American areas further from the border more swiftly.
However, a senior source from Customs and Border Protection (CBP) revealed to Breitbart News that Biden's DHS has not been involved in any significant planning for the impending expiration of Title 42.
Thousands of migrants are awaiting the end of Title 42 in a few weeks in Mexico, according to a new Breitbart News story. El Paso, Texas, officials have urged Biden to open Fort Bliss as a migration intake center as part of the strategy to deal with a record amount of illegal immigration.
Biden authorities already acknowledged that without Title 42, up to 500,000 border crossers and illegal aliens — roughly the population of Atlanta, Georgia — might enter the country.
Without Title 42, Rep. Andy Biggs (R-AZ) predicted that 30,000 illegal immigrants and border crossers would arrive daily at the edge, according to Breitbart News in April. Breitbart News discovered exclusively months ago that up to 6,000 foreign nationals were waiting to cross the border when Title 42 ends in Tijuana, Mexico.
Copyright 2022, BrightPress.org