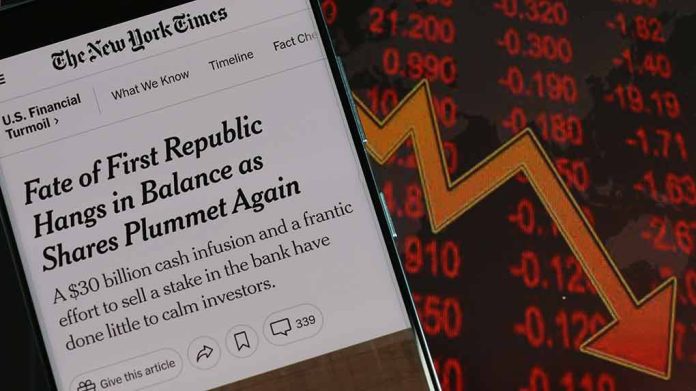 (BrightPress.org) – JP Morgan will take over assets and responsibilities for First Republic Bank after it collapsed last week, the third major financial institution to collapse in the last two months. First Republic follows Silicon Valley Bank (SVB) and Signature Bank, which collapsed in early March. The FDIC announced the deal on Monday morning, May 1st.
Customers attempted to withdraw around $100 billion from First Republic over the weekend and late last week when the price of the stock suddenly began to drop. That led to a run on the bank's deposits which ultimately caused them to be unable to meet the demand. 
The FDIC statement said the bank had a total asset value of $229.1 billion with an additional $103.9 billion in deposits, making this the second-largest collapse of a bank in the U.S. of all time. They assured customers that their deposits were insured and that they didn't have to take any action. 
The deal with JP Morgan will result in the FDIC only having to shell out $13 billion from its insurance fund, some of the losses being covered by the famous mega-firm. JP Morgan CEO Jamie Dimon suggested the takeover would give modest benefits to the firm, and its assets will complement its existing holdings. 
While Joe Biden was touting his economic success on Friday, First Republic was in the throws of its collapse, suggesting the issue will be raised by Republicans as another example of Biden's failures when it comes to the economy and banking system. 
Rampant inflation, along with a central manager style focus on ESG (environmental, social, governance) and DEI (diversity, equity, inclusion) at these major financial institutions may have contributed to their ultimate failure. Will it cause radical leftists to pause and rethink their agenda items?

If Biden's DNC speech on Friday was any indication, the Democrats will double down and pretend their policies aren't resulting in any failures. Touting his achievements in economics and infrastructure, Biden seemed completely aloof and unconcerned, cracking jokes and blaming Republicans for America's problems. 
Copyright 2023, BrightPress.org