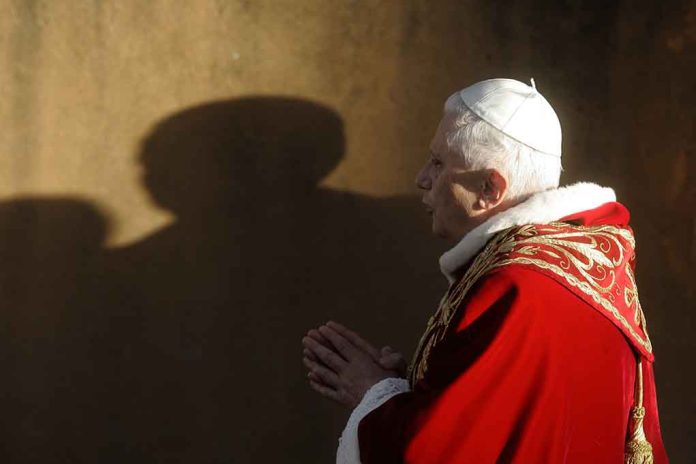 (BrightPress.org) — President Biden was perturbed by a reporter's question on the morning of January 4th regarding whether or not the President would be attending the funeral for Benedict. Owen Jensen is a White House correspondent for EWTN who has exchanged barbs with the President and his Press Secretary on prior occasions, mostly regarding abortion.
Jensen asked Biden what Benedict meant to him as a Catholic, which the president didn't answer. Instead, he spoke of how he found him relaxing and very rational during the few hours they had together. The President concluded by saying he admired him and that he "thought he was a fine man."
Jenson followed up by asking him why he wasn't going to his funeral which Biden responded by asking "Well, why do you think?"
After some back and forth the President ultimately cited logistical concerns, "the reason I'm not attending the funeral tomorrow is because it takes an entourage of a thousand people to show up… we would move everything in the wrong direction."
The U.S. Ambassador to Rome, Joe Donnelly will attend the funeral in his official capacity representing the United States. Italy and Germany were the only countries authorized to send larger delegations.
President Biden has a tendency of being snappy with reporters, in June 2021 he apologized to CNN's Kaitlan Collins after she asked a question about Russian President Putin.
In October 2022 Biden was visibly irritated with reporters who asked if there were political considerations for releasing oil from the strategic reserve ahead of the midterm elections. "No! It's Not!" was his reply.
The Biden administration was additionally vexed by Fox News Emmy-winning reporter Bill Melguin over his coverage of the crisis at the southern border, per a report from Politico. Melguin broke the story about Gov. DeSantis sending two planes worth of migrants to Martha's Vineyard and subsequent TV appearances were classified as "alarmist" by White House officials.
Copyright 2023, BrightPress.org