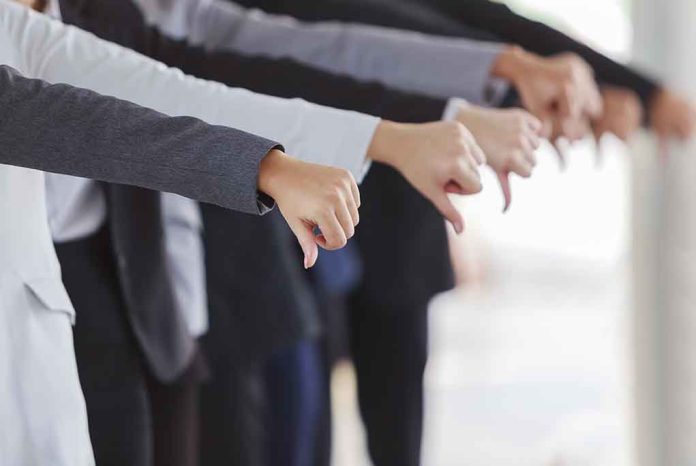 (BrightPress.org) – Americans touring or living in the nation's capital had an opportunity to give Joe Biden a grade on his presidency. Most of them were not pleased with his performance. 
Brandy from Ohio rated him "lower than F" and explained her disdain by suggesting the country is being severely mismanaged. She also said "Biden represents himself as a puppet," and suggested that makes America look weak on the international stage. 
A man from Delaware disagreed, and gave Biden an A, blaming Biden's inheritance of "a terrible situation," which this gentleman felt he navigated "quite well." 
Kevin from Ohio gave him an F due to his willingness to go deeper into debt. He also described his contributions to the national and global situation as "not helping." 
A woman from D.C. disagreed and thought he has "worked hard" to get inflation under control, but has he? She additionally commented that she felt the impact of the infrastructure investments, perhaps that's the case in the nation's capital. 
The sentiments echo a March poll from the Associated Press that saw Biden's approval rating slip again from 45% in February to 38% in March. The poll's timing was around the SVB and Signature Bank fiasco, negatively impacting Americans' view of the country's economic future. The poll is also just 2% shy of the President's all-time lowest approval rating of 36% which he hit last year in July when inflation spiked. 
Bill from Tennessee gave him an F, suggesting everything Biden involves himself with goes wrong. Emily from Alabama was kinder, she gave him a D+, stating that he's left his campaign promises unfulfilled. She pointed out he is not a moderate, as claimed, and that he's only further divided the country when he promised to bring people together.
The Biden administration certainly enjoys the privilege of blaming the previous administration. If you'll recall, lockdowns and medical mandates were far more popular with Democrats than Republicans. 
Copyright 2023, BrightPress.org