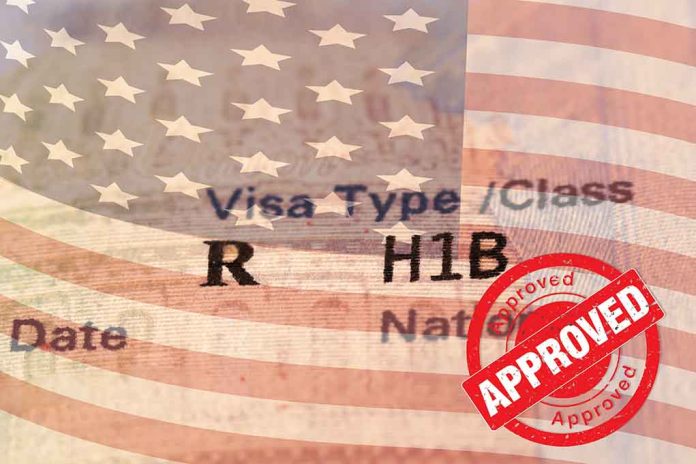 (BrightPress.org) – Big tech has been busily laying off American workers, but that hasn't stopped them from importing new ones from overseas. Researchers from the Economic Policy Institute (EPI) dug into the top 30 big tech firms and found that they've laid off (or intend to lay off) almost 85,000 employees in 2022 and Q1 2023. Curiously, during that same period, those same companies hired 34,414 foreign workers through the H-1B visa program, is there some reason they're hiring foreigners and firing Americans?
At any time, there are roughly 650,000 H-1B foreigners working in the U.S. on visas. Thirteen of these companies exist solely to funnel foreign workers into American firms. Last January, Larsen & Toubro Infotech (LTI) was sued and settled to the tune of $4.65 million for a similar scheme involving the firing of Americans to hire cheaper labor from abroad.
Some examples include Amazon, which hired some 6,400 H-1B visa workers in 2022, they've laid off over 27,000 Americans during that period. Google is another major offender, importing 1,562 foreigners via the H-1B program, and they've laid off 12,000 or so Americans. Meta, the new Facebook, Instagram, and Whatsapp holding company hired 1,546 foreign workers while they've laid off or intend to lay off over 21,000 U.S. employees. 
The intention of the H-1B program is to allow companies to hire the help they cannot get here in the States. It's not intended to allow companies to outsource cheap labor at the expense of American jobs to pad their profit margins and cut their expenses. 
Senator J.D. Vance (R-OH) is aware of the program and would like to see major changes to the H-1B visa program to stop this kind of abuse. He's had the impact hit his home state of Ohio. Sen. Tom Cotton (R-AK) has also expressed disdain that the program has been used to undercut American wages. He said the situation "makes absolutely no sense," in a 2020 interview with Breitbart News.
Copyright 2023, BrightPress.org