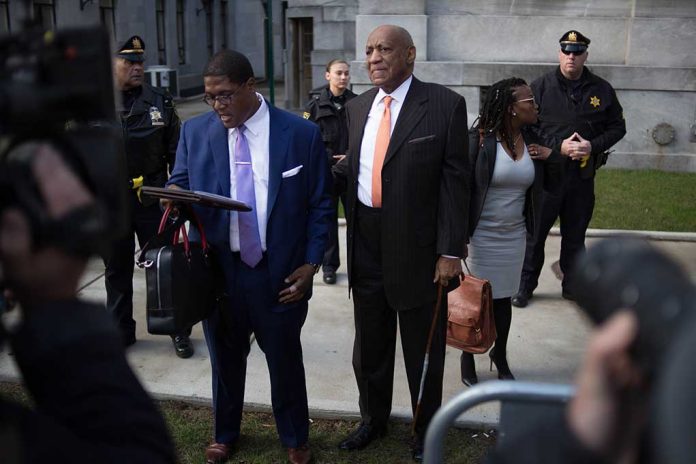 Once-Beloved Actor Found Liable for UNFORGIVABLE Crimes
(BrightPress.org) – In 2015, police arrested famed actor and comedian Bill Cosby after prosecutors charged him with a sexual assault that allegedly occurred decades ago. In late June 2021, the Pennsylvania Supreme Court overturned the then-83-year-old's conviction. The court ruled that the prosecutor in the case was bound by his predecessor's agreement that Cosby would not be prosecuted. Now, the disgraced star is in trouble again over sexual misconduct allegations, except this time it's in civil court.
SANTA MONICA, Calif. (AP) — Civil trial jury finds Bill Cosby sexually abused 16-year-old girl at Playboy Mansion in 1975, awards her $500,000.

— Mike Balsamo (@MikeBalsamo1) June 21, 2022
On Tuesday, June 21, a Santa Monica, California jury ordered Cosby to pay Judy Huth $500,000 in damages in a sexual assault case. In 2014, Huth filed a lawsuit accusing him of abusing her in 1975 when she was only 16 years old. The now-64-year-old alleged that the actor, who was in his thirties at the time, gave her alcohol and took her to the Playboy mansion. He then allegedly kissed her and forced her to perform a sex act on him. Cosby denied the allegations.
Andrew Wyatt, a representative for the actor, told Fox News Digital the verdict was a "huge victory" for his client. He explained that Huth sought millions of dollars but the award she won won't even cover her legal bills. In a statement earlier that day, Wyatt claimed Huth's attorney Gloria Allred, whom he referred to as "AwfulRed" has a "hatred for Black Men in America" and was exploiting Juneteenth — the trial actually began days before the holiday.
Cosby plans to appeal.
Copyright 2022, BrightPress.org