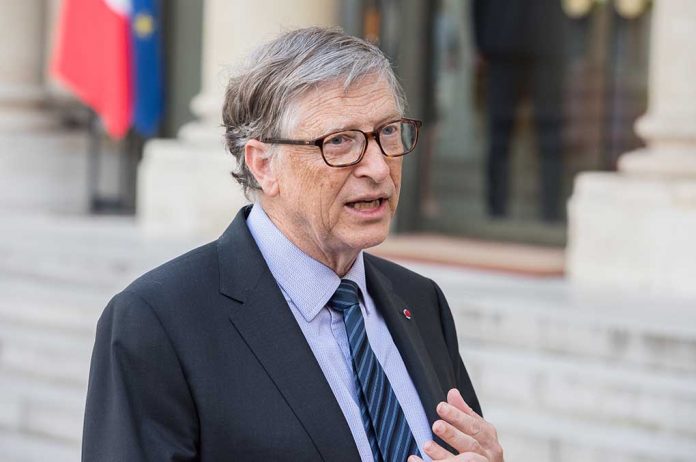 (BrightPress.org) – Whenever the subject of dead billionaire financier and convicted offender Jeffrey Epstein comes up, people who knew him squirm. On Tuesday, September 21, PBS' Judy Woodruff conducted a wide-ranging interview with Microsoft founder and billionaire, Bill Gates. One of the subjects that came up was Gates' former relationship with Epstein. As soon as the famed reporter mentioned the Epstein's name, Gates appeared nervous and slightly agitated.
Bill Gates squirmed his way through an awkward PBS interview after being asked about his relationship with Jeffrey Epstein.

Gates appeared to be insistent on making the point that Epstein was dead.https://t.co/nviBf6XA2Y

— Paul Joseph Watson (@PrisonPlanet) September 22, 2021
Woodruff asked Gates what he knew about Epstein. Gates said there wasn't much to glean. They had dinner to discuss global health issues close to the tech billionaire's heart. The Microsoft founder also acknowledged other meetings, but only to discuss philanthropic matters. The tech tycoon said he regretted the dinner, adding that other meetings with Epstein were a mistake, but there wasn't anything new to learn about his relationship with the disgraced financier.
On May 9, the Wall Street Journal reported that Gates' wife, Melinda, was concerned about her husband's interactions with Epstein going back to 2013. While the couple doesn't speak publicly about their divorce, many people believe Epstein's relationship with Mr. Gates was at or near the center of the matter. Ms. Gates is a known advocate for women and girls. After a 2013 meeting between the couple and Epstein, she expressed how uncomfortable she was with his friendship with her then-husband. Apparently, he continued to talk with Epstein despite her concerns.
Bill Gates added that there isn't much to learn from his encounters with Epstein. He said he's proud of his foundation and what it has accomplished, which he claims is his only focus when he gets up every morning.
Copyright 2021, BrightPress.org