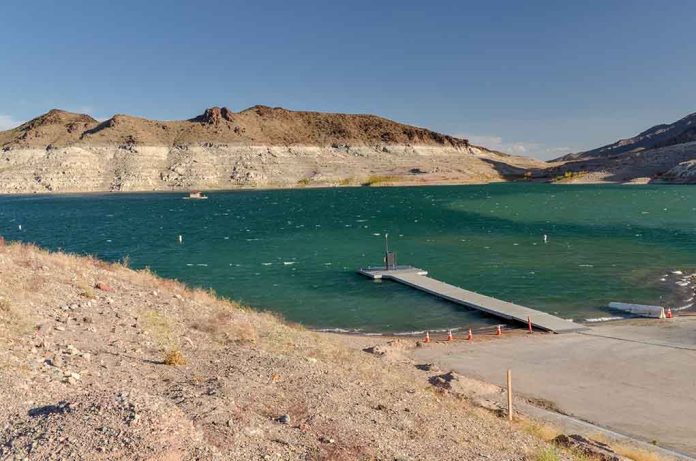 Body FOUND After All These Years – Mafia Linked?
(BrightPress.org) – Lake Mead is a massive reservoir that was formed by the Hoover Dam between Nevada and Arizona. The Reno Gazette-Journal reported the lake provides water for up to 40 million people across seven Southwestern states. Since 1983, Lake Mead has dropped over 170 feet. In recent months, the lake has begun exposing some secrets as human remains were found. So, whose bodies are they, and why were they at the bottom of the lake?
Two experts at Las Vegas' Mob Museum hypothesize that the ruthless enforcer killed one of three men with mob ties who disappeared decades ago without a trace.https://t.co/lR2Mud6k8y

— Las Vegas Review-Journal (@reviewjournal) May 19, 2022
On May 1, a man's body was found inside a rusted-out metal barrel. Officials said the man was shot execution-style and wore clothing from a mid-to-late 1970s Kmart. Two authors who are experts on the Mafia surmised the body could belong to any one of three different people who were connected to the mob.
In 1976, George "Jay" Vandermark disappeared out of thin air. The authors said the man worked at a casino and was responsible for slot machines. He allegedly stole between $7 million and $15 million in coins. They said the Mafia wanted him dead but added it probably wasn't his body.
William Crespo testified in court against an executive for a Mafia front company that supervised some of the city's top gambling operations. The two authors concluded it could be him as he owned a boat on the lake near the scene where the human remains were found.
The authors said the most likely candidate was Johnny Pappas. This potential victim managed the Teamsters' Central States Pension Fund. He likely had information about the Mafia's inner workings about how the organization skimmed the Argent casinos. If so, the mob had a good reason to get rid of him.
Still, police said it would be difficult to identify exactly who was thrown in the barrel.
Copyright 2022, BrightPress.org