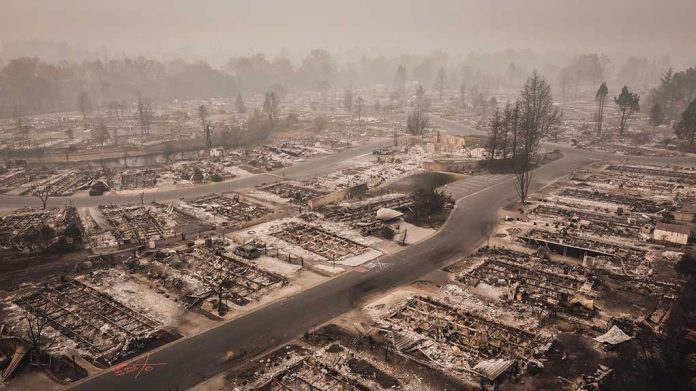 (BrightPress.org) – Since 2000, California has experienced numerous droughts. From December 2011 through May 2019, the Golden State experienced 376 straight weeks of dry conditions. Over the last year, it emerged as the second driest on record.
Now, America's most populated state is experiencing a new phenomenon. On Sunday, October 24, the region received a drought-busting storm, but it's not any ordinary rain system. Two storms converged together to create a massive bomb cyclone. The intensity of the storm forced home evacuations and shelter-in-place orders.
California bore the brunt of a "bomb cyclone" and an "atmospheric river" on Sunday, a convergence of storms that brought floods and high winds to the state.

The vast weather system is expected to reach southern British Columbia.https://t.co/r9TcNa364n

— The New York Times (@nytimes) October 25, 2021
A bomb cyclone occurs when a massive storm system rapidly intensifies, and the atmospheric pressure drops at incredible rates in a short time. It happens when a cold air mass collides with a warm air mass. California's bomb cyclone was so intense that flooding and heavy snowfall occurred throughout the state. Burn scars contributed to the massive problem. A burn scar happens when fires kill vegetation and leave the ground hard. Rain causes rushing mud, rocks and vegetation to sound like a freight train.
As of Tuesday morning, over 25,000 Californians were still without power, down 100,000 from Monday. In parts of the state, heavy snowfall shut down highways and roads. While bomb cyclones do sometimes occur in California, they are extremely rare in October. The state typically experiences them in December and January.
Copyright 2021, BrightPress.org