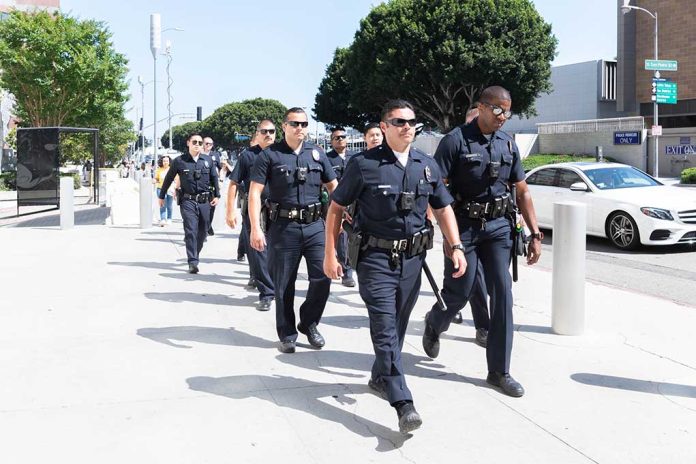 Over 20 Police Recruits Hospitalized
(BrightPress.org) – A class of 75 recruits from Los Angeles County's Sheriff's Training Academy and Regional Services (STARS) Center was out for a morning run on November 16, when tragedy struck. A vehicle swerved directly into the column of cadets, causing injuries ranging from mild to severe. The driver — traveling in the wrong direction — then hit a light pole and suffered injuries requiring treatment at a nearby hospital.
Please keep these brave recruits in your thoughts and prayers. They were struck with a vehicle while conducting their morning run and several are still in critical condition.

Investigation is on going.https://t.co/pDYgnwb6AZ

— National Fraternal Order of Police (FOP) (@GLFOP) November 16, 2022
Police arrested 22-year-old Nicholas Gutierrez in relation to the incident. The suspect passed a breathalyzer but officers did find marijuana in the SUV he was driving. He was released a few hours later with no formal charges, but the investigation is ongoing.
The 25 cadets injured in the crash are from a number of different departments. Sixteen sustained minor injuries, four moderate, and five critical. All of the injured were quickly transported to nearby hospitals, two by helicopter.
Of those injured, 20 came from the Los Angeles Sheriff's Department, two each from Glendale and Bell Police Departments, and one from the Pasadena PD. Sheriff Alex Villanueva told FOX 11 that the investigation leads authorities to believe that the crash was intentional. He noted that some of the victims of the tragedy have long, hard recoveries ahead of them.
The driver's family told the outlet that he's a "good kid" from a law enforcement family with respect for the profession.
Copyright 2022, BrightPress.org