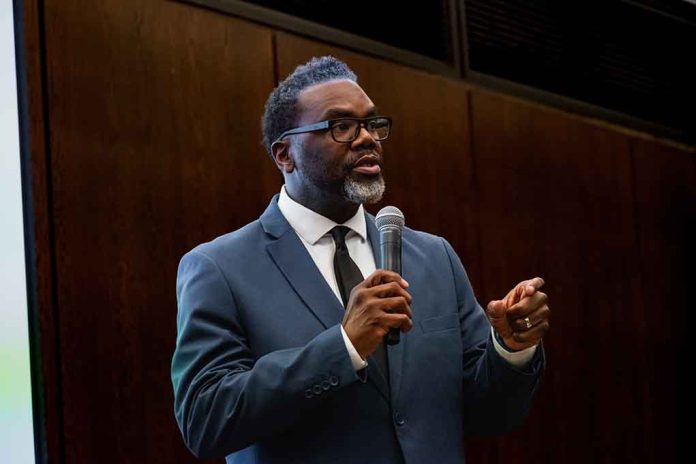 (BrightPress.org) – The next mayor of Chicago will be a former educator endorsed by Sen. Bernie Sanders (I-VT), a self-proclaimed progressive, and former Cook County Commissioner Brandon Johnson. Johnson defeated his more centrist opponent, former head of Chicago Public Schools Paul Vallas. Vallas had the support of the Chicago police union and local business leaders, whereas Johnson was supported by the teacher's union and radical democrats. 
Both candidates came out ahead of Lori Lightfoot in a prior election leading to a run-off between the two of them this past Tuesday, April 4th. She was the first mayor in forty years to lose as an incumbent mayor. Both of them were out this past weekend attempting to garner as many undecided voters as they could. 
Vallas had the plurality of votes in the former election but was defeated in the runoff. Rampant crime during the last few years of Lightfoot's leadership lead voters to cast her aside and try something new. Unfortunately for them, the tough-on-crime candidate was Paul Vallas, so the future of crime in the city of Chicago is unlikely to change. Some have argued that Johnson is even more radical than Lori Lightfoot, indicating that if anything crime will surge under his tenure. 
Chicago's crime surge has seen the volume of homicides hit a 25-year-high with 797 deaths in 2021, per the Chicago Police Department. Fox News's Judge Jeanine Pirro called Lori Lightfoot's loss a big "win" for the city of Chicago. Elaborating on her sentiments, she said Lightfoot didn't grok the people of her city, nor did she appreciate her most important job as mayor is to keep people safe. Pirro also said that Lightfoot's policies hurt the city "politically, economically, [and] sociologically."
Johnson reached out to folks who did not vote for him in his acceptance speech, inviting their feedback and collaboration. The margin between him and Vallas is worth commenting upon, 51.5 percent to 48.6 percent…  a very slim margin. Will Johnson deliver a safe welcoming city? 
Copyright 2023, BrightPress.org