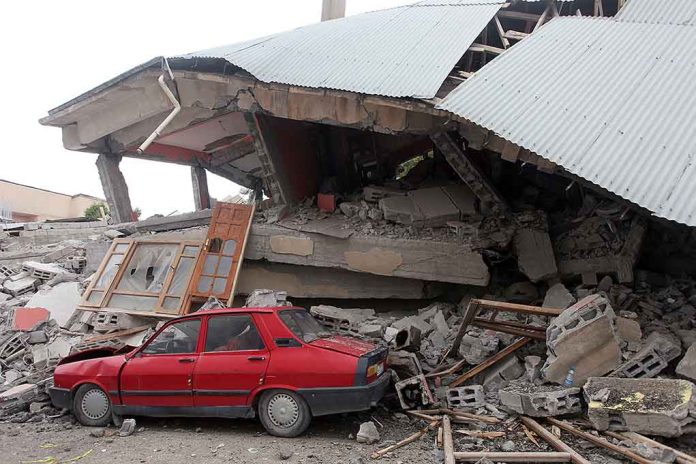 Extreme Earthquake Kills Hundreds
(BrightPress.org) – The island of Java is a relatively small piece of the Indonesian archipelago, yet it holds roughly half of the country's population. In the town of Cianjur, poorly built structures are common and landslides are always a concern. When a 5.6 magnitude earthquake hit the area at a shallow depth, disaster followed.
#Earthquake (#gempa) possibly felt 49 sec ago in #Indonesia. Felt it? Tell us via:
📱https://t.co/LBaVNdVFgz
🌐https://t.co/AXvOM7qtuH
🖥https://t.co/wPtMW5w1CT
⚠ Automatic crowdsourced detection, not seismically verified yet. More info soon! pic.twitter.com/NKVXnD4mJG

— EMSC (@LastQuake) November 21, 2022
On November 21, rescuers began searching for survivors after the quake turned much of the town into a pile of rubble. Over 200 people are dead, and scores more are missing. Teams worked through the night to try to rescue people buried beneath the destruction.
The list of the dead includes a large number of children taking extra classes at Islamic schools when they collapsed. Dwi Sarmadi, who works for an Islamic education organization, told the Associated Press, "buildings were completely flattened."
The event set off landslides in the area, adding to the chaos. Indonesia's Meteorology, Climatology, and Geophysical Agency recorded at least 25 aftershocks. More than 2,200 homes suffered damage, and 13,000 Indonesians are displaced. In Jakarta, some buildings shook, causing evacuations, but no damage was reported.
The damage to Cianjur, however, can be measured in lives. It will take some time to clear the debris and recover the lost before the casualty list can be finalized. Then, of course, comes the rebuilding, which will likely take years.
Copyright 2022, BrightPress.org