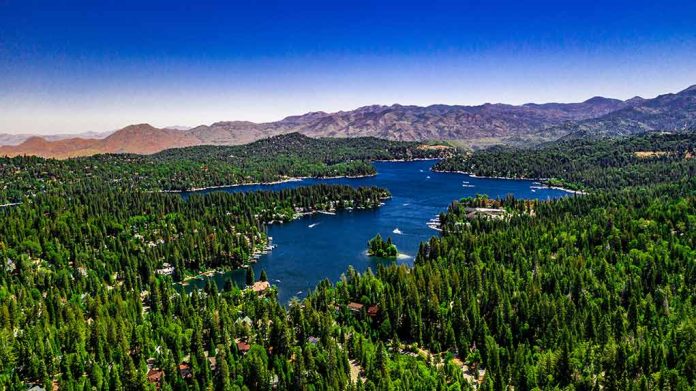 (BrightPress.org) – A store owner from Lake Arrowhead, California was shot and killed after a man made disparaging remarks about rainbow flags she had hanging outside her clothes store. Police arrived at 5 p.m. on Friday, August 18th to find Laura Ann Carleton dead at the scene, according to a press release from the San Bernardino Police Department.
The police learned that the subject had made negative remarks about the pride flag hanging outside the store before shooting Carleton. He then ran away. He was ultimately confronted by police and killed in an officer-involved shooting which is still under investigation. Police say he was armed when they approached him without giving any other details. His name has not been released.
Carleton was the owner of Mag Pi, a clothing store in Lake Arrowhead. Its website describes her decades-plus career in the fashion industry and lush family life, she was a mother to nine children and married to her husband for 28 years. A tribute on Facebook said she went by the name Lauri and called her "a pillar in our community." She was also credited with being a founding member of the Mountain Provisions Food Cooperative in the post. Lauri and her husband were "pivotal" in organizing their Free Store which gave away food and supplies for 4 months after a terrible blizzard.
The post authors asked residents to fly pride flags and pay an act of kindness forward in her honor. Lake Arrowhead LGBTQ+ said that Lauri was not gay but that she was an ally to those in need. They called her death "a senseless act of violence." Comments on the thread indicated that Lauri was well-loved by her neighbors and colleagues, others said that her display of the rainbow flag made them feel welcome and safe at her store.
Paul Feig, who directed Bridesmaids, added a comment suggesting Lauri will be "sorely missed." Feig praised Lauri, saying she was gifted at making folks laugh. He further added that she was dedicated in general just as she was dedicated to helping gay people and anyone who needed it.
Copyright 2023, BrightPress.org