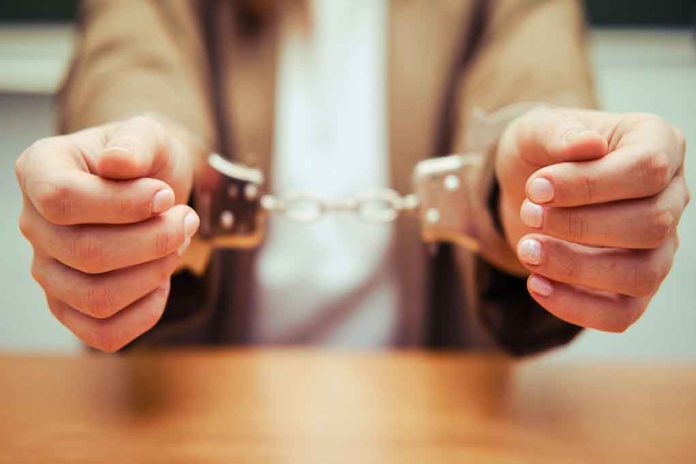 (BrightPress.org) – California Governor Gavin Newsom had angry words for a federal judge after a story of how he handcuffed a little girl in court to deter her from criminal activity was published in the San Diego Union-Tribune. U.S. District Judge Roger Benitez said he attempted to show the 13-year-old girl the consequences of criminal behavior while she was attending a hearing for her father. Now he's facing a misconduct complaint.
Hinting at why the smear job was necessary, Newsom's tweet included the line "THIS is the man who is deciding the fate of CA's assault weapons ban." Was Newsom's digital tirade an attempt to intimidate a federal judge?
Handcuffing the girl was an attempt to deter her from experimenting with drugs or other criminal behavior which had landed her father in prison, Judge Benitez explained during the hearing according to transcripts of the February 13th hearing.
Dad's lawyer called the move "psychologically damaging and harmful," as the girl was brought to tears. A complaint was filed four days later, prompting the 9th Circuit court to examine the situation. Now Benitez will face additional scrutiny while he mulls over the constitutionality of California's ban on 'assault weapons.'
Widely expected to overturn the ban, the timing of this complaint seems all too political considering the popularity of scared-straight tactics among parents and law enforcement professionals. At the end of the day, Benitez merely had the girl handcuffed and explained to her that this is what happens if you engage in criminal behavior.
However, with the Governor making public accusations and the Californian media keeping a close eye, it will take some courage to make an unpopular call like overturning an assault weapons ban. Newsom has already said he expects the ban to be overturned, is his criticism solely based on the fact this judge is conservative?
Radical ideologues like Newsom and President Joe Biden would love to see Americans disarmed, so long as they aren't the ones who have to go door to door grabbing guns.
Copyright 2023, BrightPress.org