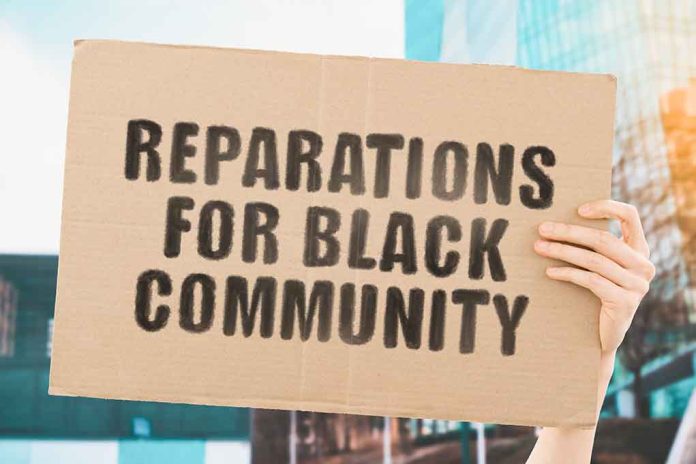 (BrightPress.org) – Reparations for black Americans could cost California $800 billion according to preliminary estimates presented by serious economists during a budget hearing on Wednesday, March 29th. The California reparations task force tapped five experts who collectively generated the figure, which is three times the most recent annual budget for the entire state. 
That's just for starters! The figure does not include extra benefits for black-owned property that was "taken unjustly" or for the loss of value experienced by black-owned businesses. 
California Assemblymember Reggie Jones-Sawyer wants a creative solution and is a big proponent of huge payouts for a crime for which no one alive today was responsible. He'll try to convince Gov. Gavin Newsom and the rest of his fellow California legislators to advance the expenditure. 
The task force is working to figure out how much each eligible black Californian would receive and how to pay for it by July 1st. The current amount they're suggesting is ~$360,000 per eligible black resident.
Meanwhile, in San Franciso, the wild figure they're throwing around is $5 million per eligible resident, no word on whether they'd be able to double-dip if both measures are passed. 
Ironically slavery was never legalized in California, but that doesn't matter according to activists who shift the reparations goal post to discrimination and racism of eras past. Grandpa had it rough in the 1950s, and his grandchildren deserve millions in compensation, according to their "journey." 
Eric McDonnell is the committee chair for the San Francisco-based African American Reparations Advisory Committee. He told reporters that their $5 million figure wasn't calculated, but the result of an actual "journey." No word on whether he'll accept a payout from this program; if so, that seems like a significant conflict of interest.
Curiously absent during these discussions are any investigation into labor trafficking of women and minors in California. With increased numbers of unaccompanied minors coming across the border and whistleblowers reporting their involvement with cartels and human traffickers, one would think contemporary slavery would be the more pressing of these issues. 
Copyright 2023, BrightPress.org