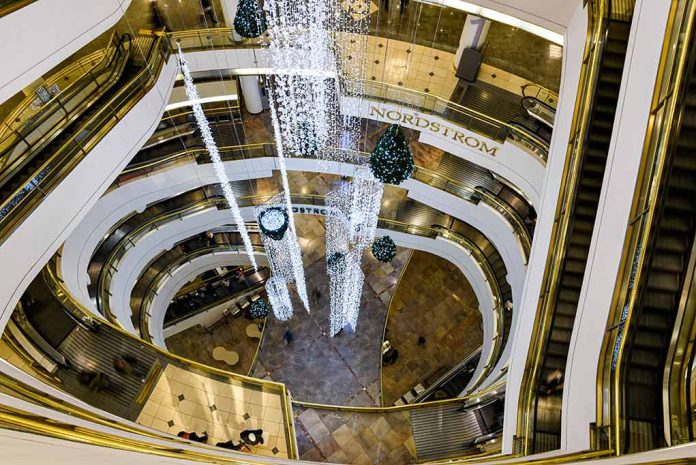 (BrightPress.org) – San Francisco's commercial real estate keeps taking hits as major vendors and businesses continue to pull out of the city and close up shop as crime continues to be a major deterrent toward healthy economic activity within the city.
The latest company to pull out is shopping giant Westfield, owner of the San Francisco Centre Mall, which stopped making payments on its $558 million loan before returning the keys to the bank.
Westfield and its partner Brookfield Properties confirmed the details with Fox Business on Monday, June 12th. In a statement, the company said that they were proud to operate the mall during its vital period, but that "challenging operating conditions" in downtown SF have decreased foot traffic, mall occupancy by businesses, and sales. As a result, they're returning the property to their lender and wished the new managers the best in attempting to profitably operate the property.
Multiple businesses have shuttered their operations in San Francisco due to the ongoing crime and homelessness epidemic. Park Hotels & Resorts announced its intention to stop making payments on its $725 million loan for the nearly 2,000-room San Francisco Hilton Union Square and the thousand-room Parc 55 San Francisco, citing both "major challenges" to their normal operations and low expectations for recovery anytime soon.
Major retailers like Nordstrom, Gap (which owns Old Navy, Gap, Banana Republic, and other clothing outlets) and Target have shuttered stores in the Bay Area over the last few years due to ongoing problems within the city during and following the pandemic.
Could this be a brilliant business strategy? As the economic conditions and crime worsen in San Francisco, a city with an incredibly high average property value, those values will drop dramatically over time. A corporation could decide to pull out now and buy back in once values drop.
Copyright 2023, BrightPress.org