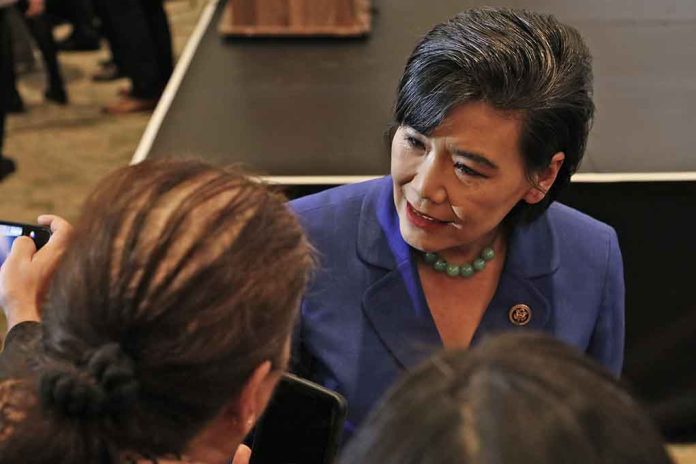 (Brightpress.org) – House Representative Judy Chu (D-CA) was given a leadership role in an alleged front group for the Chinese Communist Party (CCP) in 2019 according to an investigative report by the Daily Caller News Foundation (DCNF) published February 6th.
Chu was named an "honorary chairwoman" at an August 2019 event put on by the Forums for Peaceful Reunification of China. The organization lobbies against the continued independence of Taiwan here in America.
Crucially the U.S.-China Economic Security and Review Commission found that the organization behaves as a CCP intelligence asset in a 2016 report to Congress. Chu nor the Forums for Peaceful Reunification returned a request for comment to the Daily Caller. 
The Forums for Peaceful Reunification of China is just one of dozens of groups in the U.S. charged with lobbying against Taiwanese independence, all of which are subordinates of the China Council for the Promotion of Peaceful National Reunification (CCPPNR). The USCC labeled the CCPPNR as "directly subordinate" to the Chinese United Front Work Department (UFWD).
UFWD lists its focus as "liaison with foreign political parties," "intelligence collection," and "influence operations" to "co-opt and neutralize" their political opposition. These organizations are largely redundant and all of them are connected to the Chinese Communist Party according to Russell Hsaio, the executive director of the Global Taiwan Institute.
Dr. June Tuefel Dreyer implied they weren't "working very hard" to conceal their connections. Steve Yates used to do Chinese language analysis for the National Security Agency who said anyone with the appropriate knowledge "would easily see" the similarities between the groups and individuals involved.
Chu was given a signed certificate from the Forums that recognized her "outstanding friendship and support" according to photographs taken at the event. Chu's speech at the event mentioned her wish to see China and Taiwan "become one family," according to translations by DCNF. Her 2019 sentiments stand in stark contrast to her August 2022 claims she's "always supported Taiwan."
Copyright 2023, BrightPress.org