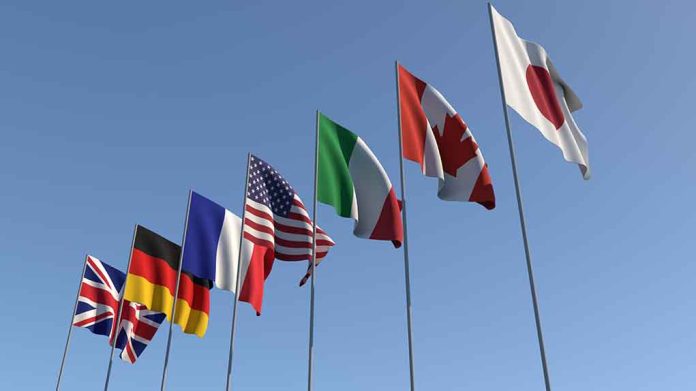 Famine CRISIS – Foreign Government Makes Bold New Promise
(BrightPress.org) – Over the last several months, reports of a world food crisis began to emerge partly due to the war in Ukraine. Before the invasion, Ukraine was one of the world's top grains exporters through its seven Black Sea ports. Much of Africa, the Middle East, and other regions depend on the food that comes from the war-torn country. The G7 countries are now scrambling to prevent famine and Canada has made a major pledge
Food Crisis
On May 11, David Beasley, executive director of the United Nations World Food Programme (WFP), warned the US Senate that $5 billion was needed to help starving countries. Soon after, Congress passed the legislation, but the Biden administration has yet to release the funds despite the ongoing emergency situation. Ahead of the G7 Summit, the World Food Programme encouraged Canada, France, Germany, Italy, Japan, the US, and the UK to immediately address Africa's famine and humanitarian crisis. The UN agency warned that 50 million people in 45 countries could face a severe food crisis at any moment. The organization said the G7 was vital to ending the conflicts driving the impending humanitarian catastrophe.
On Monday, June 27, the G7 met in Germany where they discussed the ongoing crisis. The world leaders pointed the finger directly at Russian President Vladimir Putin, insinuating he was weaponizing food to achieve his end results.
According to reports, the leaders accused Russia of targeting railways, transportation routes, and grain silos. Putin's military is also allegedly blocking major Black Sea ports, resulting in severely limited grain exports. An additional issue is that farmers may not have a place to store 2022 harvests if grain from last year isn't moving out of the country.
Canada Steps In To Help Solve Crisis
Canada announced it would ship grain storage equipment, including mobile silos, so that Ukrainian farmers can store this year's harvest and get it to areas of the world in great need as fast as possible. Prime Minister Justin Trudeau tweeted that his country has the expertise to help make a difference in Ukraine while addressing the global food supply crisis.
Canada has valuable expertise in the field of grain storage and agricultural practices, and our farmers' knowledge and experience will help immensely. We'll continue to work with partners to provide support for Ukraine – and to address the global food security crisis.

— Justin Trudeau (@JustinTrudeau) June 26, 2022
Additionally, Canadian Agriculture Minister Marie−Claude Bibeau said Canada expects to see wheat production increase 44% over last year. She predicted that would help increase supplies to struggling countries relying on Ukrainian grain. Bibeau also reported Canada was taking an all-hands-on-deck approach to solving the emerging hunger calamity.
The G7 expects to discuss measures their countries can take as a group to help those harmed by the lack of grains from Ukraine.
Copyright 2022, BrightPress.org