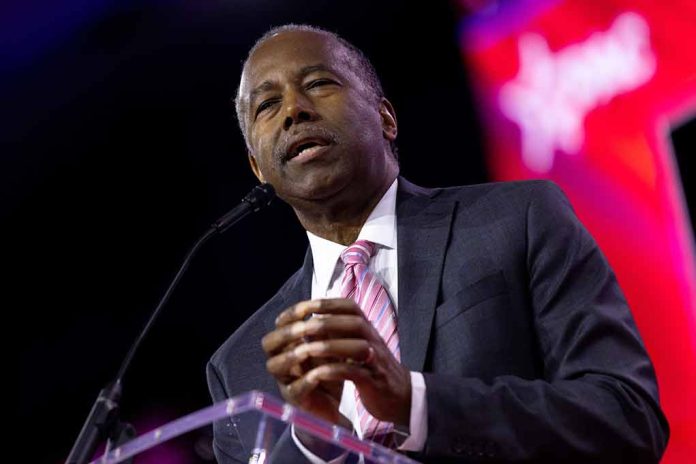 (BrightPress.org) – In a recent discussion with Carl Higbie on Newsmax's "Frontline," Former Housing and Urban Development Secretary Ben Carson suggested that the Biden administration was disconnected from reality "and it's a huge problem." Their inability to accurately and honestly perceive reality is going to continue to cause interest rates to rise, he said.
Carson said he didn't believe the people are evil, but rather that they are merely incompetent.
The mortgage rate has risen to its highest level in over two decades, challenging homebuyers to scrape every penny and offering them much higher interest rates on their loans than were available just a few years ago. The additional demand for houses in the post-pandemic period has tightened the available supply of homes for sale, further driving up property values across the U.S.
The average rate for a new home loan is up to 7.09% when just a year ago it was 5.13%. An article from 2018 was complaining about a "spike" to 4.18%, which was the highest it had been since 2011. The additional percentage points drive up monthly payments on the loans by hundreds of dollars, putting many buyers out of reach of their dream homes and others unable to buy altogether.
Carson suggested mortgage rates will continue to rise and credited the Trump administration with doing a lot of deregulation that prevented the current scenario from being far worse than it is. Other market analysts have suggested the current rate could hit 8% in the not-too-distant future. Carson also added that things could turn around quickly if the administration took the proper steps.
Chief economist with the National Association of Realtors Lawrence Yun said that if the rates hold around 7.2% then they should begin to retreat; however, if they cross that line, the likelihood that they will continue to climb past 8% is high. He called the current period a "critical stage."
Copyright 2023, BrightPress.org