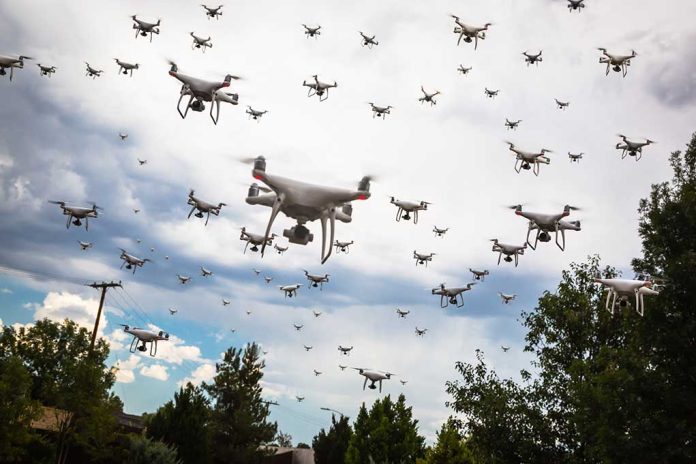 (BrightPress.org) – Flying drones has become a hobby for millions of people across the world. Unfortunately, drug cartels can easily utilize drones to surveil the US southern border. Over the last several years, the devices have become an important tool for the cartels who smuggle humans and drugs into America.
On Tuesday, April 12, Judicial Watch reported Mexican drug cartels operated over 9,000 drone flights into the United States from Mexico over the last year. Federal officials say the drones observe federal, state, county, and city leaders near the US/Mexico border. The US Border Patrol says it has caught around a dozen drones and studied them to gain intelligence about the cartels.
This is why my Defend Arizona Border Plan calls for shooting down Cartel Drones.
Why are we allowing them to fly into our airspace? Enough is enough! https://t.co/lv3DWhHZzA

— Kari Lake for AZ Governor (@KariLake) April 16, 2022
In 2018, an academic study found that Mexican drug lords used drones to learn the positions of US Border Patrol agents and communicate with drug smugglers about their whereabouts. Now, the situation has grown more serious. The technology is becoming more and more capable, and the Biden administration is forecasting a record-breaking number of illegal migrant encounters on the US southern border in late May, and into the summer after the Biden administration lifts Title 42.
Judicial Watch said they are filing a Freedom of Information Act (FOIA) request with Customs and Border Patrol to glean more public information. The watchdog group says it wants to know how often the drones crossed into US territory, as well as asking the government to provide public records, reports, assessments, and any other information about the drones' usage.
Copyright 2022, BrightPress.org