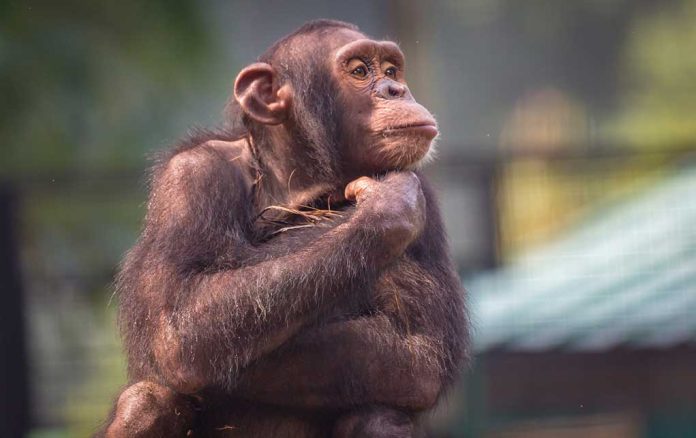 Monkey Business: Escaped Chimp's Antics Will Leave You BREATHLESS
(BrightPress.org) – After Russia invaded Ukraine on February 24, zoos across the country closed as their employees worked to provide safety and comfort to stressed-out animals. The Russian military bombed the city of Kharkiv in early April. It hit several zoo enclosures, making them unsafe for animals and humans. Ultimately, the staff euthanized the large animals.
Still, primates appear to be weathering the storm after zoo officials moved them to a more secure location. On Monday, September 6, a chimpanzee escaped an enclosure and took a stroll through town.
Chichi the chimpanzee roamed the streets of the Ukrainian city for several hours. Zookeepers followed her at a safe distance to ensure her well-being as well as the public's safety. At one point, a keeper sat near Chichi in a park, hoping she would return with her to the zoo. When it started to rain, the chimp went to a nearby staff member who helped her put on a raincoat.
#Ukraine In Kharkiv, a chimpanzee escaped from a zoo. It was walking around the city while zoo employees tried to convince it to return. Suddenly it started to rain, and the ape ran to a zoo employee for a jacket and then agreed to return to the zoo. pic.twitter.com/4AGiAHw1wf

— Hanna Liubakova (@HannaLiubakova) September 6, 2022
Ultimately, the zoo worker was able to wheel her back to safety on a bicycle. The zoo says Chichi is in good health.
This wasn't the first time Chichi tried to escape. While officials don't know how she got away this time, she untangled fencing and opened locks on her enclosure in the past. Numerous people recorded videos of the chimp playing hooky.
Copyright 2022, BrightPress.org