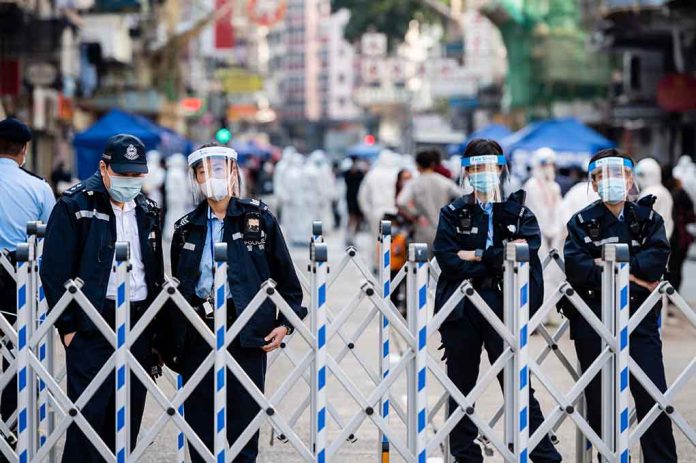 China Unveils 5 Year COVID Plan – It Should Scare Everyone
(BrightPress.org) – Over the last two years, China has enacted a zero-COVID policy. If just a few residents test positive for COVID-19, the government will order cities to implement strict lockdowns. The policy is one of the strictest in the world and it's there to stay for a while.
On Monday afternoon, Cai Qi, the Beijing secretary of the Chinese Communist Party, made the stunning announcement in the Beijing Daily, which media outlets republished across the country. He said the government was committed to improving the capital's management of COVID-19 and the emergency response. The proposed improvements include isolating people. The report also said the country could expect ongoing residential inspections and COVID testing.
The announcement elicited confusion and anger. Hours after the post, officials removed the five-year reference from the statement and on social media posts. The government did not offer an explanation.
Alarm & outrage in China after a senior party official said zero covid will be in place for next five years, acc to Communist Party Newspaper. Rules would include regular testing/health checks/strict entry-exit policies for Beijing.
The newspaper later retracted the line @cnn pic.twitter.com/FqCuveSXYp

— Selina Wang (@selinawangtv) June 27, 2022
On Wednesday, June 29, Chinese President Xi Jinping said the communist country would maintain this policy, even if it hurts the economy. He noted that China would not pursue learning to live with the virus. The communist leader said it would be better to protect the elderly and children while allowing the economy to accept some setbacks.
Xi's statement will likely set the tone for the country moving forward ahead of the Communist Party's national congress, at which many expect he will secure a third term.
Copyright 2022, BrightPress.org