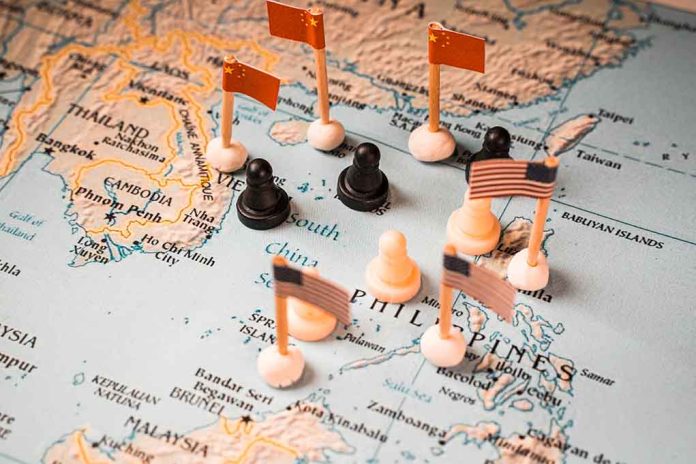 (BrightPress.org) – The Chinese navy is being criticized after they deployed military-grade lasers to harass and blind crew members on a Filipino navy vessel on a supply run in the South China Sea on February 6th. The weapon temporarily blinded several crew members, creating a potentially disastrous situation.
Philippine President Ferdinand Marcos Jr called on the Chinese Ambassador to Manila on Tuesday in order to discuss the incident. There have been increasing tensions between China and other countries in the region as China claims sole ownership of the entire South China Sea, despite an international court ruling from 2016 which invalidated their claim.
U.S. State Department spokesman Ned Price responded by calling the act "dangerous operational behavior." He continued to suggest that China was risking peace and stability in the region by impugning the freedom of vessels to travel in the South China Sea as guaranteed by international law.
He further reminded China that the U.S. has a mutual defense treaty with the Philippines going back to 195,1 and if China were to attack any of their military or civilian vessels, it would incur a direct U.S. response.
Manila's Army chief Romeo Brawner also announced upcoming joint military drills with U.S. forces next quarter involving a total of 8,900 troops from both militaries.
Price reminded China of that ruling and that they have no territorial rights to the Second Thomas Shoal, where the incident took place. Chinese Foreign Ministry spokesman Wang Wenbin relayed the Communist Party's official position that the ship entered Chinese waters without permission and claimed their coast guard's response was professional and restrained while leaving the fact they used a military-grade laser off the table.
China has become increasingly aggressive in recent years, with spy balloons, laser attacks, and even bizarre, satellite-based displays over Hawaii all suggesting the communist country is flexing their muscle and testing the global response. With the U.S. military and economy occupied with Ukraine, it is a perfect time for China to assert itself. Will U.S. authorities stand up to their naked aggression?
Copyright 2023, BrightPress.org