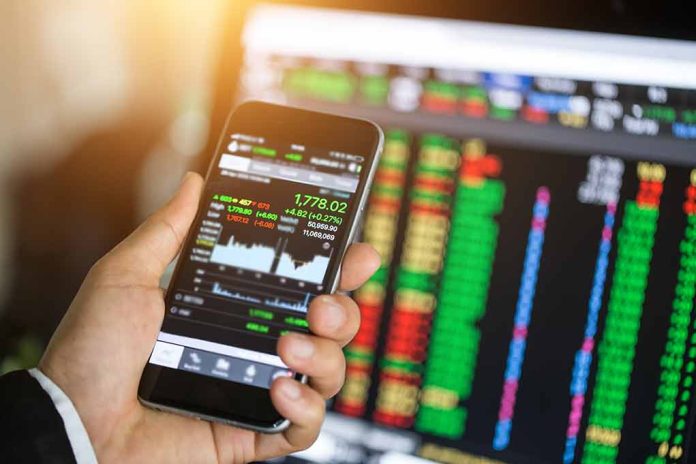 (BrightPress.org) – Two Republicans in Congress are concerned about American financial data falling into the hands of the Chinese Communist Party through digital financial trading platforms. In a letter published on May 3rd, Sen. Tommy Tuberville (R-AL), Rep. Jim Banks (R-IN) addressed the heads of the Financial Industry Regulatory Agency (FINRA) & the U.S. Securities and Exchange Commission (SEC) regarding Webull & Moomoo. 
Noting that both companies have access to "highly sensitive personal information" from their combined total of millions of American users, the Congressmen warn that the companies' connections to China could threaten the security of that information and they may be in violation of American law. 
The letter states its purpose is to call attention to the problem and to ask for details about how the SEC is abrogating the potential for abuse by China. The gentlemen alleged that both companies are owned by Chinese corporations, which are notorious for aiding China's Communist Party in its quest for global dominance. 
They also state that Webull has at least eight FINRA-registered employees working inside mainland China, which begs the question: how are they accountable to American SEC rules and laws? They add that there is a double standard in China where Chinese companies refuse to provide American regulators with information on their customers or business practices, and in many cases are barred by Chinese law, while Chinese-owned companies in America have unfettered access to deeply personal private information of American citizens. 
Banks and Tuberville asked for a response no later than May 31st, where they ask for a detailed elaboration of SEC and FINRA protocols to ensure their rules are being followed by these firms. They want details about cybersecurity and anti-money laundering efforts as pertain to these firms. They're also asking if they've ever requested information from the firms from individuals based in China and whether or not they complied. Lastly, they want guarantees that American information isn't being stored in China, where it could be accessed by the Chinese Communist Party. 
Tuberville issued a statement on the matter where he reiterated China is currently the greatest threat facing American national security and the need to protect Americans' personal information.
Copyright 2023, BrightPress.org