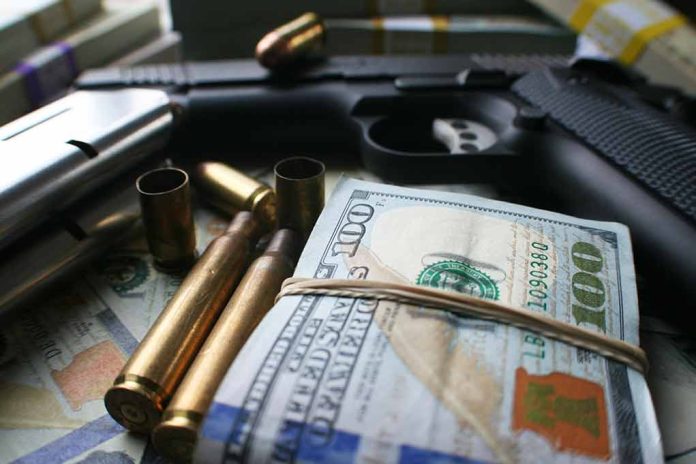 (BrightPress.org) – The Insane Crip Gang (ICG), notorious for dozens of crimes including murders, street violence, and drug trafficking, is adding pandemic fraud to the list. Their operation was so advanced that they generated a manual on how to scam programs to steal benefits designed to help people who lost income due to the pandemic-related lockdowns and other economic impacts.
They especially took advantage in California, where they were handing out money with very little oversight or scrutiny of the applicants. Criminals managed to score $200,000 in fraudulent unemployment benefits claims in a single month in 2020. A woman in the Eastern District of New York District Attorney's office announced charges against the gang, suggesting they used the ill-gotten gains to fund criminal activity including the purchase of guns and drugs, as well as live a lavish lifestyle.
Most every organized criminal enterprise was able to bilk the taxpayers out of illicit benefits claims during the pandemic. The problem is so bad, there's not even a precise number on how many dollars in benefits were stolen by bad actors.
The largest handouts were given through unemployment programs in every state, and additional loans or grants were handed out through the Small Business Administration (SBA). These organized criminals would form fake businesses, file fraudulent records, and receive thousands or more in handouts from the government.
CEO of government at LexisNexis Risk Solutions Haywood Talcove suggested that now that the pandemic has passed, these criminals have moved on to other government handout programs like food stamps and unemployment insurance. In their study of the situation, they've found that criminals use the money self-indulgently on cars, clothes, or real estate or in order to fund their criminal enterprise. The funds have been used as seed money to purchase drugs, facilitate human trafficking, or buy weapons.
The problem suggests that anytime there is a government-facilitated distribution of wealth for folks in need, criminals will abuse the system in order to enrich themselves while harming taxpayers and driving inflation.
Copyright 2023, BrightPress.org