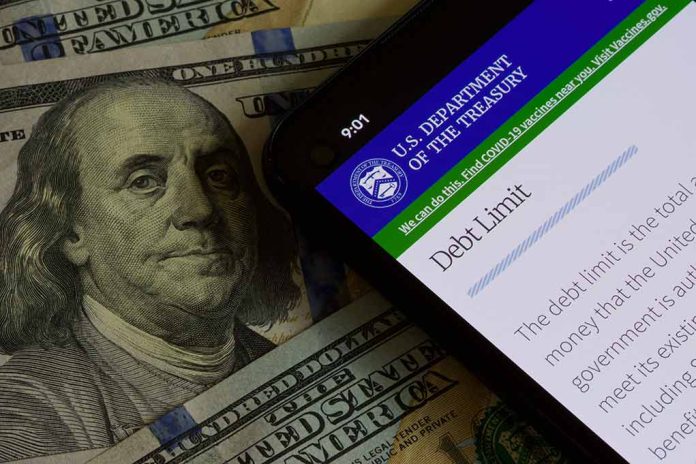 (BrightPress.org) – White House Press Secretary seemed willing to repeat her talking points even though they were obviously lies. On Thursday, April 27th, Karine Jean-Pierre excoriated House Republicans for failing to raise the debt limit, even though they had passed a bill on Wednesday, April 26th to do just that.
Highlighting how the administration is not going to negotiate on raising the debt limit, and informing the press that Republicans have a "constitutional duty" to address the crisis, she failed to acknowledge that a legislative package had passed the House the day prior. That bill passed 217-215 in the House with all Democrats voting against the measure along with a handful of Republicans. 
When a reporter informed her that a bill had passed and asked what the heck she was referring to, she reverted to meandering blather about Republicans dealing with the issue in order to make sure there isn't going to be a default. They did that already, however. 
The Democrats and President Biden have signaled they aren't interested in the Republican bill, however, as it cuts some spending. The Democrats are now obliged to discuss and debate the issue in the Senate, where negotiations with leadership could result in a compromise. Biden's handlers, however, seem content to refuse negotiations and compromise while blaming Republicans for failing to give in to their demand to not cut a single penny from the budget. 
Republicans held meetings earlier in the week to allay concerns from different factions so they could garner enough support to pass the bill. The alterations protected tax credits for biofuel production in the Midwest and added work requirements in order to access federal benefits. 
Entitled the "Limit, Save, Grow Act," the bill would up the debt ceiling by $1.5 trillion, or until March 31st, 2024, whichever comes first. There's also a cap on increased spending of 1% over the following ten years. Discretionary spending is also limited to 2022 levels. 
Senate Majority Leader Chuck Schumer (D-NY) criticized the cost-saving measures, and President Joe Biden said he will veto the bill, refusing to negotiate any spending cuts. 
Copyright 2023, BrightPress.org