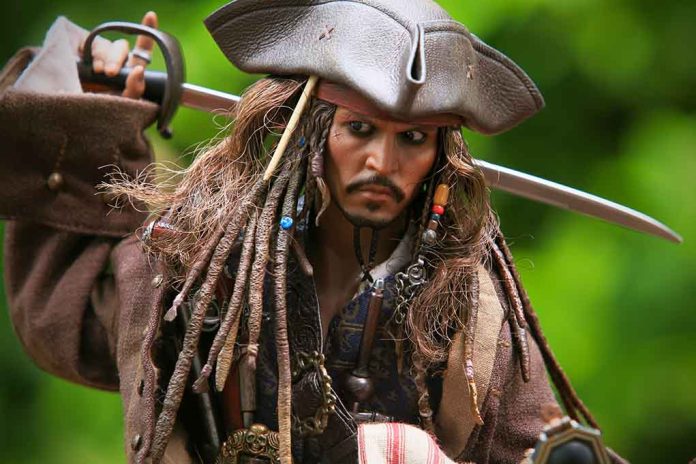 Depp's Team Responds Over $300 Million Contract Rumors
(BrightPress.org) – In 2018, Disney ended its relationship with actor Johnny Depp, who played the fan-favorite Captain Jack Sparrow in the five "Pirates of the Caribbean" movies. The entertainment company parted ways with the actor over allegations of abuse by his ex-wife actress Amber Heard. On Monday, June 27, the media reported that Disney wanted to bring him back to play the iconic role for a whopping $300 million — but the rumors were false.
No, Johnny Depp is not returning to "Pirates of the Caribbean." https://t.co/2GELjO8L9g pic.twitter.com/6s7dwA7bmI

— ForbesLife (@ForbesLife) June 29, 2022
Stories suggested that Disney approached Depp before the defamation lawsuit trial against Heard. They allegedly wanted to know if he would be interested in playing Captain Jack Sparrow in one or two new movies. A representative for the actor told PEOPLE that the reports were not accurate and that he would not be reprising his role. During the trial against his ex, an attorney asked whether he said that even if Disney offered him $300 million and a million alpacas, they still wouldn't get him to come back. The star said that was a correct statement.
In May, famed producer Jerry Bruckheimer told The Times that he was working on a script for two more "Pirates" movies. A former Disney executive said there is a lot of interest in rebooting popular series with original actors after the success of "Top Gun: Maverick." When asked if Depp would be involved in the movie(s), Bruckheimer said the actor wasn't under consideration at the movement. Still, he noted that things could change.
Copyright 2022, BrightPress.org