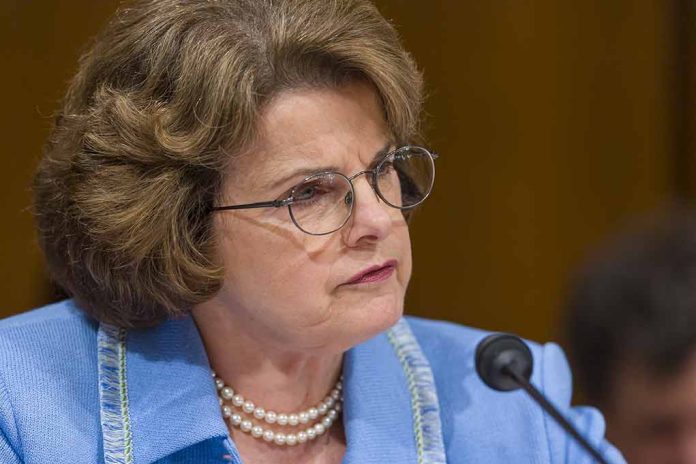 (BrightPress.org) – Senator Dianne Feinstein has become the target of Democratic calls for her resignation. Feinstein has been waylaid for over a month as she recovers from a shingles infection. Her absence has caused a split on the Judiciary Committee right down the middle, meaning that without her, no party has a potential majority, and thus all voting on Biden's judicial nominees has been delayed indefinitely.
Feinstein, 89, is now being asked to resign by members of her own party who are fed up with the lack of progress on approving Biden's (or rather his handlers') judicial picks. She's had to miss dozens of votes due to her illness and recovery. 
Rep. Ro Khanna (D-CA) was the first Democratic official to call for her resignation, simply saying she could no longer complete her duties as a Senator. Rep. Dean Phillips (D-MN) added to the sentiments while singing the praises of Sen. Feinstein. Calling her continued absence a "dereliction of duty" he asked others to speak up and not remain silent, as that was also a dereliction of duty. 
The pressure for her resignation has been turned up in recent days after Senate Judiciary Committee Chairman Dick Durbin (D-IL) said he wasn't able to advance any judicial nominees until the potential for a tied vote was dealt with during an interview with CNN on April 10th. 
Former Obama speechwriter and podcast host Jon Lovett also called for her resignation on his show Pod Save America during an episode on Tuesday, April 11th. During that episode, he attributed the Democratic inability to get Biden's judicial nominees approved to Feinstein's absence. 
Feinstein's office responded to the controversy by publishing a statement that suggested she's had some additional complications from her illness but is planning to return "as soon as possible." In her statement, she also asked Senate Majority Leader Chuck Schumer to temporarily fill her seat. In order to get that passed, he'll need Republican support which he is unlikely to get given judicial nominees are on the line.
Copyright 2023, BrightPress.org