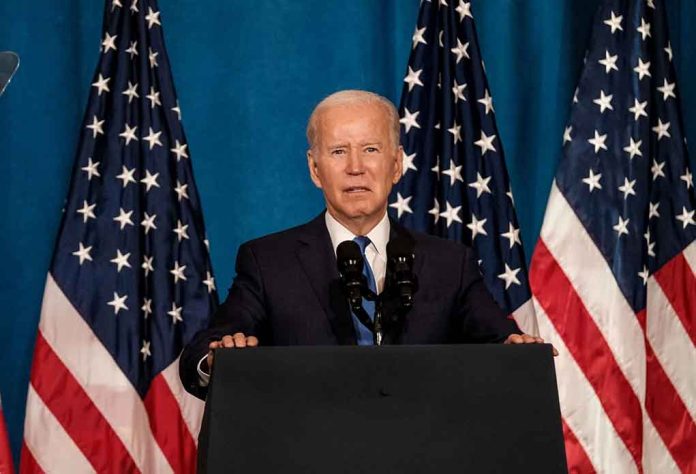 (Brightpress.org) – President Joe Biden gave his annual State of the Union speech Tuesday, February 7th, which has inspired some folks to look back to last year's speech to see what the President said then and how it compares to the current situation. His March 1st address last year reveals multiple key areas where Biden failed to live up to his pronouncements. Let's take a look at a few of them.
Biden addressed the need to "secure the border and fix the immigration system." Doesn't seem like much work was done there, does it? With migrants still coming over the southern border to the tune of hundreds or thousands per day, no new legislative effort to either solve the immigration issue or secure the border, and now a Republican-controlled House one has to wonder if anything will be done to address the crisis in the remaining two years of Biden's presidency.
Is this what Joe Biden and the Democrats want for America? If they aren't willing to come right out and say it, it certainly appears that way on the surface.
Customs and Border Patrol (CBP) reported over 2 million migrant encounters in fiscal year 2022. That's a 41% increase versus FY2021.
Inflation is another area Biden called a "top priority." Do you feel like Biden has achieved his stated goal of "getting prices under control?" Milk, eggs, gasoline, and energy costs are still high. With no end in sight to the war in Ukraine, foodstuffs and energy costs will continue to rise across Europe, impacting the U.S. The so-called Inflation Reduction Act from last August did…what, exactly?
Biden pledged to slash the deficit by $1 trillion in his March 1st speech. Over the last year, our federal debt has increased by $1.3 trillion, and the government is already reporting a $421 billion deficit for the first quarter of FY2023. Debt, inflation, and deception are common trends observed over the last year. Will they continue?
Copyright 2023, BrightPress.org