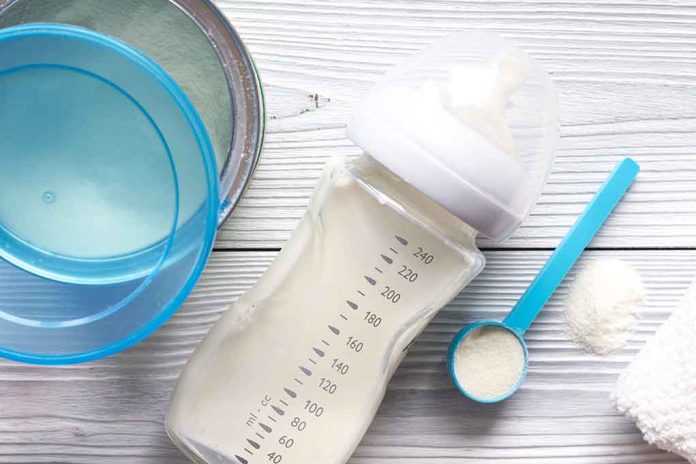 WARNING – Don't Buy This Online For Children
(BrightPress.org) – Across America, shortages of baby formula are leading to empty store shelves. For many parents, this may create fear and a feeling of hopelessness as they seek ways to provide for the nutritional needs of their babies. In some instances, parents are turning to human donor milk online. While that may seem like a good solution to a severe problem, doctors say it could come with significant risk.
After the Food and Drug Administration (FDA) closed the country's biggest baby-formula-producing plants over health concerns, a nationwide shortage ensued. Abbott Nutrition and the FDA say the plant is coming back online, but it could take two months to restock store shelves. In the meantime, Katie Boss, a pediatric dietitian at the Helen DeVos Children's Hospital in Michigan, told Fox News that the most critical issue in relation to obtaining human breast milk for a baby is to make sure it comes from a reliable source. Otherwise, the risk of harming the infant could be high.
More Parents Seek Human Donor Breast Milk
Boss said many donor organizations are seeing an uptick in parents requesting human donor milk. She warned many parents might try to seek an alternative path to obtain food for their babies. The pediatric dietician said it might seem like a good idea to look online or on social media to purchase it, but she highly recommends against it as it could cause serious harm to a child.
Boss also noted that it's imperative to know several things about the donor. That includes the mother's medical history, whether she's on any medications while pumping, any vitamins or prenatal supplements she's taking, and how long the breast milk has been stored.
Besides searching online for breast milk, Boss said the best way to find it is through a state or local milk bank. Both sources screen the mother, pasteurize the milk, and freeze it for safety.
There is one catch for parents who want to obtain healthy milk from a bank. They may need a doctor's note prescribing it. To find out for sure, parents should contact their local or state bank to determine the requirements.
About That Homemade Formula Recipe
Boss said that many parents are also making their own baby formulas or diluting their existing stash to try and get by until the shortage ends. She cautioned heavily against either, saying it could compromise the nutritional quality and potentially lead to the death of a child in some circumstances.
University of Washington Medicine pediatrician Dr. Beth Ebel also warned that rationing or diluting baby formula could disrupt the development of a baby's brain. She noted that it's possible for babies six months and older to use cow's milk in an emergency.
Still, experts say if parents have a challenge finding formula, they should contact their healthcare providers or local health departments for help in obtaining safe food for their babies.
Copyright 2022, BrightPress.org