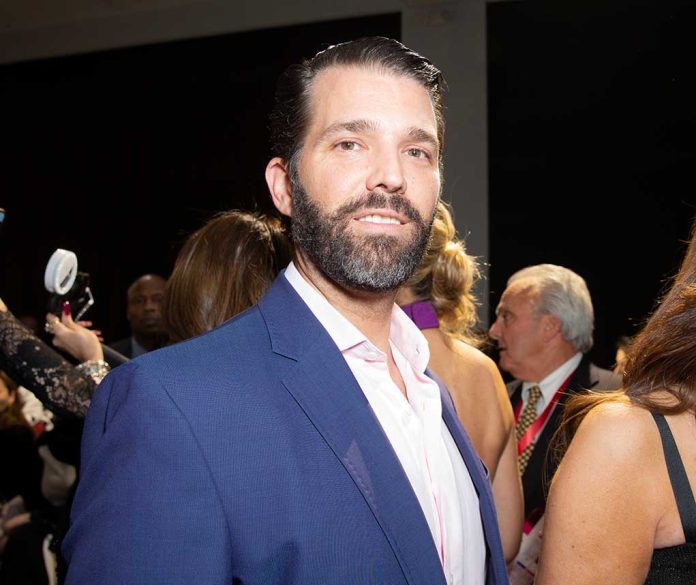 (BrightPress.org) — Donald Trump Jr has signed a contract with Rumble for a multi-year podcast worth several million dollars per Axios. His new show will be called "Triggered with Don Jr" referencing the title of his 2019 book. They will air two episodes per week starting at the end of January 2023, with the potential for more frequent episodes as the show gains momentum. He plans to use Locals (Rumble's subscription platform) to answer live questions from the audience after every episode.
Trump Jr has been on Rumble since early 2021 and has earned over a million subscribers in that time, making him one of the most successful creators on the platform. The podcast will continue his trend of doing news analysis and commentary with the occasional guest.
Rumble has been adding many popular creators to their exclusive roster, Glenn Greenwald, Russell Brand, and Canadian lawtuber VivaFrei among them. Dave Rubin also announced that his show will be going exclusive on Rumble. Rubin also will be using Locals to address his paid subscribers' questions after each episode.
Rubin announced the move on January 3rd, saying he was "beyond thrilled to be furthering my partnership with both Rumble and Locals." Continuing, he added the need for free and open internet infrastructure, and that the days of "big day silencing us" were "coming to an end."
The Youtube alternative has been gaining popularity since Youtube began more extreme censorship of political contrarians including people who contested the value of the government's COVID-19 policies or questioned the results of the 2020 election.
Their major difficulty is that they are primarily funded by venture capitalists and have not yet found a way to make the company profitable. Most of their revenue is from advertising, but they hope to expand into subscriptions and other products in order to generate profits.
They've been working closely with Truth Social which is set to be their first publisher sometime this year.
The 'conservative' company has a very liberal policy when it comes to what is allowed to be spoken on platform, much to the chagrin of liberals who believe speech must be carefully regulated by authorities.
Copyright 2023, BrightPress.org