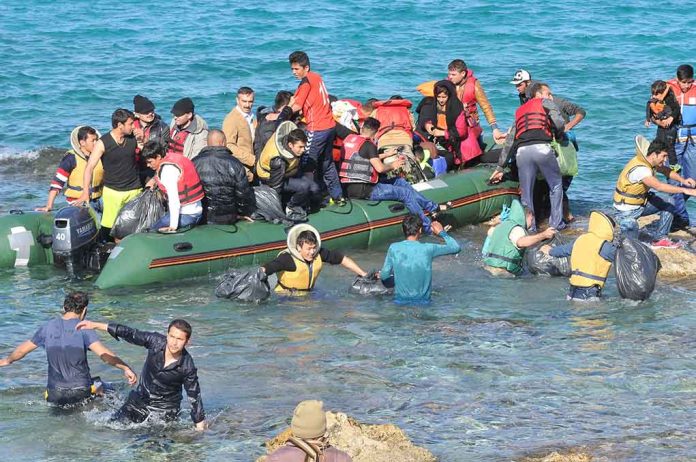 (BrightPress.org) – The Italian coastguard reported two boats that suffered a catastrophic failure, leaving dozens of illegal migrants floating in the Mediterranean Sea. At least 30 died, and 57 were rescued on Sunday, August 6th. It wasn't immediately clear what had happened to their vessels, but survivors reported extremely rough seas.
Another incident left 34 migrants stranded on a cliff on Lampedusa, another island off the southern coast of Italy. They required an airlift after their ship had wrecked on the coastline that previous Friday. Among those rescued were two pregnant women and a child, suggesting that the migrants were desperate.
Italy is in the midst of a continued wave of migration from travelers across the Mediterranean, at least 92,000 have arrived this year alone according to data from their interior ministry. For reference, they had received 43,000 by this time last year.
The coastguard called the rescue operation "complex" and suggested they had likely set out from Sfax in Tunisia, a popular launch site for illicit migration.
They said that the dead had included a woman and a child. Italian news agency Ansa said they were a mother and her one-year-old child from somewhere on the Ivory Coast. Survivors told Ansa that the boats had carried 48 and 42 people each. Survivors and the dead were retrieved approximately 23 nautical miles away from Lampedusa.
Over two-thousand people had landed on Lampedusa over the previous few days after they were rescued by Italian coastguard patrol boats and NGOs as strong winds engulfed the island.
Spanish NGO Open Arms rescued 195 migrants releasing them at the Italian port city Brindisi. They had been rescuing estranged migrants at sea for two days in rough water. Italian officials force NGOs performing rescue or transport operations to ports farther away from main population centers in an attempt to disperse the arrivals. They complain this means they have to spend more time traveling to the port and less time rescuing victims of shipwrecks.
Despite the risks, tens of thousands of people still flee across the Mediterranean every year.
Copyright 2023, BrightPress.org