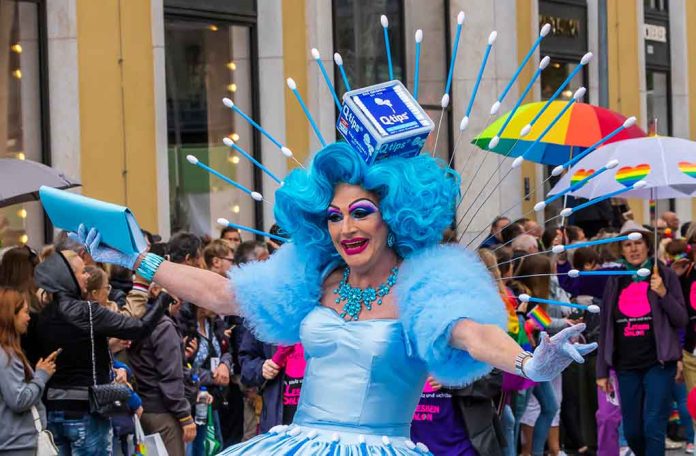 (BrightPress.org) – The ongoing debate regarding drag performances and whether or not they're appropriate for certain audiences got a fresh injection of controversy as actor Kevin Bacon and his wife, Kyra Sedgwick, put out a viral video doing a silly dance while wearing t-shirts that said "Drag Is An Art and Drag Is A Right" while featuring the cartoonish face of a supposed drag queen on the front.
In a tweet that condemns banning drag performances and says that the performers and the "LGBTQIA+ community need our help," Bacon plugged his non-profit and made the wild suggestion that "drag is a right." 
Multiple states are adding laws that prohibit the typically adult performances from happening in open public spaces or hosting drag events that seek an audience of mostly children. Florida and Tennessee are the most recent. Tennessee's law restricts these performances and other adult material from being shown to children or in public spaces where children could be present. A federal judge has issued a temporary injunction blocking that law from going into effect, however, calling it "vague and overly broad."
Some have wondered if transgender shooter Audrey Hale's rampage in Nashville a few weeks ago was in response to these laws. The FBI is refusing to publish her manifesto, so it's difficult for the public to know what exactly her motivations for the attack were. 
Numerous celebrities have already spoken out about how they believe drag is perfectly fine for small children. Musical talent Lizzo had a recent performance in Tennesee with some drag queens who were featured on RuPaul's Drag Race. Given the temporary injunction, Lizzo and her crew were not technically violating the law. 
Just a few short years ago, the idea of a drag performance "for kids" would have been a complete anomaly, but with the commercialization of LGBT issues, these kinds of shows are gathering more publicity, including in schools, churches, and public spaces like libraries, sometimes they're even funded by taxpayers. 
Copyright 2023, BrightPress.org