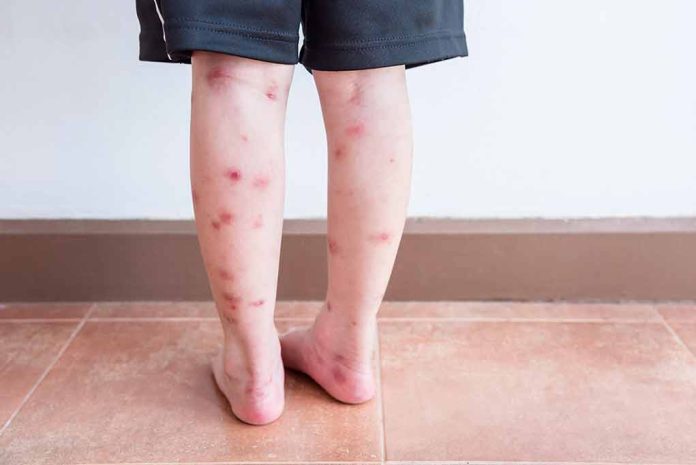 (BrightPress.org) – Republican Representative Tony Gonzales visited the Texas border town of El Paso after the expiration of Title 42 to get a first-hand account of the southern border crisis and what he found was disturbing. After being warned by officers to avoid the area if possible, Gonzales was informed of the various diseases that have been coming into the country with the migrants, including things like scabies, respiratory illnesses, bed bugs, and other infections.
Gonzales did a ride-along with Socorro's Chief of Police whose town is only 15 minutes away from El Paso. They witnessed crowded streets and makeshift shelters littering public spaces and sidewalks. The city is denying there is an outbreak of any diseases, they prefer to call them incidents and advise locals to avoid panic.
El Paso Health Authority Dr. Hector Ocaranza told KFOX-TV that they were "working very closely with shelters" to offer them recommendations for preventative measures to keep things under control. The city only said they had a few reports of bed bugs, respiratory illness, and chickenpox and that they wouldn't call any of those an outbreak. They also said that given the conditions of the migrants, it's normal to see illnesses like this.
The Central Processing Center for Border Patrol in El Paso was incredibly overcrowded, its normal capacity for 1,000 or so people was overstressed with more than 6,000 present on Friday, May 12th. Outbreaks of disease will be more common in crowded shelters; things like bed bugs will naturally occur when people sleep on crowded streets outdoors and can't wash their clothes or bathe regularly.
Commenters on Twitter noted that in video and images from El Paso, almost all the migrants seem to be single young men. Others acknowledged the fire hazard of having so many overcrowded facilities.
The migrants have been leaving large amounts of waste, with tens of thousands of people moving over the border, locals are left to wonder how all the damage will be cleaned up. The government seems content to let as many people in as will come over the border regardless of the cost to American citizens.
Copyright 2023, BrightPress.org